EDINBURGH BUS DEPOT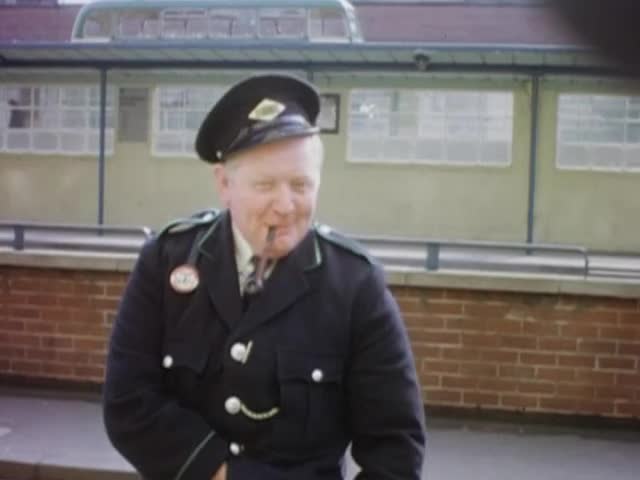 This video is not available to view remotely
Full length video - onsite only
Please read Understanding catalogue records for help interpreting this information and Using footage for more information about accessing this film.
Title: EDINBURGH BUS DEPOT
Reference number: 6714
Date: 1964*
Sound: silent
Original format: 16mm
Colour: col
Fiction: non-fiction
Running time: 3.38 mins
Description: General views of work at St. Andrews Square Bus Station, Edinburgh, as seen from the viewpoint of an employee there. Bus drivers and conductors are working and joking about, with some footage of buses on the roads.
Shotlist: very brief shot as bus conductors / drivers walk to their vehicles on the forecourt (0.07) driver and conductor dressed in smart uniform pose for the camera in front of their bus, bound for Whitecraig. They are joined by some other male colleagues (0.36) gvs St. Andrews Square and gardens, Edinburgh with light traffic. Possibly shot from a moving bus? (1.08) St. Andrews Square Bus Station. Bus for Leven departs (1.20) a man and a woman conductor have a chat in the bus station, standing in front of waiting room exterior. Slow pan across to show various green buses in station (1.39) driver steps out of bus and stands still for camera (1.48) shot of Eastern Scottish bus 'Edinburgh - Glasgow Cheapest Fastest Express Coach Service' (1.57) c/u truck at loading bay 'Allied Iron Founders Ltd' - looks to be sinks / baths being unloaded (?) (2.14) exts Tour Stance E and backs of buses, looking up to main bus yard area (2.26) a conductor walks across forecourt to work (2.33) gvs buses pull in to stands (2.45) -blank- (3.07) drivers laugh and joke together and chat to cameraman also. One smokes a pipe and laughs over another driver's ticket (3.38)