LINBURN'S ROYAL DAY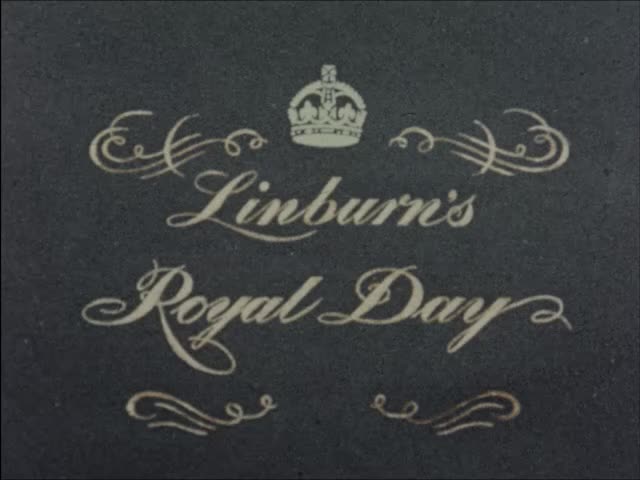 This video is not available to view remotely
Full length video - onsite only
Please read Understanding catalogue records for help interpreting this information and Using footage for more information about accessing this film.
Title: LINBURN'S ROYAL DAY
Reference number: 6567
Date: 1958*
Sound: sound
Colour: col
Fiction: non-fiction
Running time: 7.27 mins
Description: Overview of Royal visit to Scottish National Institution for the War Blinded workshops and houses in Linburn, Midlothian. People cheering and waving from exterior galleries.

Entered in the Scottish Amateur Film Festival, documentary category in 1958.

Information supplied by Edinburgh Cibne and Video Society: "File ref 16/51 - 'Very steady camera..with much of the sound recorded at the time of filming, though not truly synchronised. Very competent editing and good sound track for the time it was made. Lizar's Trophy Winner 1959, Marwick Shield 1959, Alan Harper Trophy 1959'.

See also refs. T0191, 5342, 6026.
Credits: ph. Brian P. Winpenny & James D. Hendry

Shotlist: title (0.05) sign 'Linburn' (0.11) sign 'Scottish National Institution for the War Blinded' (0.16) pan housing scheme for men and families, children playing in foreground (0.37) c/u small Union flags on pole with thistle (0.41) sign 'blue car park' (0.46) cars parked (0.52) flags, ERII sign (0.57) guests in seating area adjoining workshops (1.08) flags (1.12) people with hearing and vision loss arriving with their families, and entering recreation hall, gvs people seated outside (1.56) Lord Rosebery and Marquess of Tweeddale arrive, other dignitaries (2.35) members of press waiting (2.44) Royal cars arrive, people cheer and wave as car passes (3.24) Queen and Prince Philip disembark and walk outside (3.30) Royal Standard raised on flagpole (3.34) children wave Union flags as Royals are introduced to dignitaries (4.18) Royals enter recreation hall and meets group of men (4.34) Royals approaching workshops for tour (4.59) c/u roses in ground (5.09) people seated outside (5.30) presentation of handbag to Queen and sealskin cartridge case to Prince, made in workshop (5.53) crowd cheering again as Royals pass. Queen walks to housing estate and visits one house of 17 (6.40) Royals depart in car, people waving (7.19) ecs (7.27)