HOUSEHOLD PESTS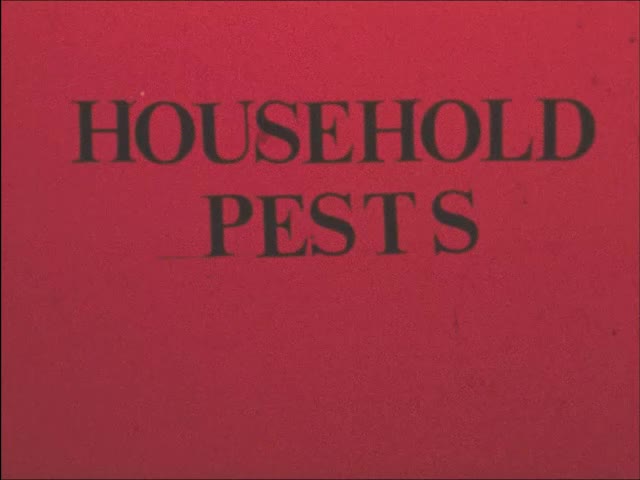 This video is not available to view remotely
Full length video - onsite only
Please read Understanding catalogue records for help interpreting this information and Using footage for more information about accessing this film.
Title: HOUSEHOLD PESTS
Reference number: 6566
Date: 1966
Director: d. F.Brock
Sound: sound
Colour: col
Fiction: fiction
Running time: 5.52 mins
Description: Story of a housewives continued interruptions [taken from synopsis in Edinburgh Cine Society file].

Presented by the Edinburgh Cine and Video Society Ladies' 8mm Film Unit

Soundtrack accompaniment features background music, occasional sound effect and vocal effect.
Credits: TOP 8 1966 HIGHLY COMMENDED 8mm MovieMaker

ECS Ladies' 8mm Film Unit presents

Cast Betty Weir with G.Dunnet, E.Rushton, B.Stevenson, C.Weir, J.Weir, K.Wood
cam. & co-director E .Dunnet

Shotlist: Title. Woman walks down street into suburban house. Puts kettle on. Makes cup of tea. Talks on telephone. Coalman comes to door. Saucepan goes on fire. Woman opens can of soup. Woman sets table, serves soup for herself and son. Ring at doorbell, woman answers. Men in suits call from the 'Society for Prevention of Cruelty to Women'. Husband and boy in house look at each other across table. Men at door ask woman if she has taken her pill today. Neighbour comes to window to borrow piece of coal. Husband dashes off and catches bus. Woman sets fireplace. Woman washes her face whilst junk mail comes through letterbox. Woman tears at her hair in frustration. THE END.