COLINTON SUNDAY SCHOOL TRIPS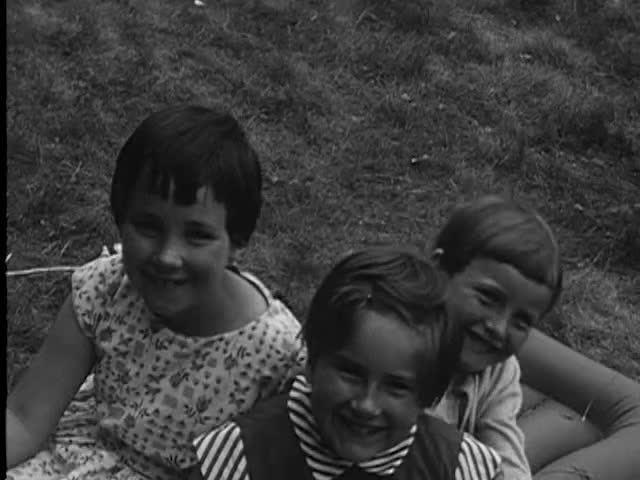 This video is not available to view remotely
Full length video - onsite only
Please read Understanding catalogue records for help interpreting this information and Using footage for more information about accessing this film.
Title: COLINTON SUNDAY SCHOOL TRIPS
Reference number: 3290
Date: 1961 - 1965c
Director: filmed by William S. Dobson
Sound: silent
Original format: 16mm
Colour: bwcol
Fiction: non-fiction
Running time: 9.52 mins
Description: The village of Colinton Sunday School events during the 1960s. (10 mins)

From collection of film of village life in the Edinburgh parish of Colinton 1945-1971.
Shotlist: Gv's several Sunday School picnics - picnic filmed before 1964 [Col] Coastal site, possibly the Rosebery estate at Dalmeny, picnickers enjoying themselves despite heavy rain and mist - includes shots of John Horne on left hand side, Douglas Fordyce, Dorothy Smith, Mary Yeaman Sunday School teacher in red coat and headscarf, Ronald McLeod in red jersey, Mrs Margaret Smith and Janet McBain, Bob Roberts, Rev Dr Mackie Laing, Countess of Rosebery, Margaret Foggo in rainmate (3.11) [b&w] races, scenes at picnic on the Dalmeny Estate c.1962, including shots of Edith Meirs on left, Mary Bean middle, Marie Bunting on right, possibly Lord Rowallan, Marie Saltoun holding baby, John Bunting, Bert Ronaldson local trader doing the cooking, Bob Roberts, Morton Boyd (Nature Conservancy Council), Janet McBain left, Jane Roberts centre, Fiona Ross right, Mrs Margaret Ross, with Mrs C McBain by fence, Margaret and Logan Smith (7.47) different picnic, Cramond c.1963, including shots of Stella McLeod, Janet McBain, Fiona Ross, Mr Horne Sunday School superintendent (9.52)