LIFE ON THE ISLAND OF SANDAY, ORKNEY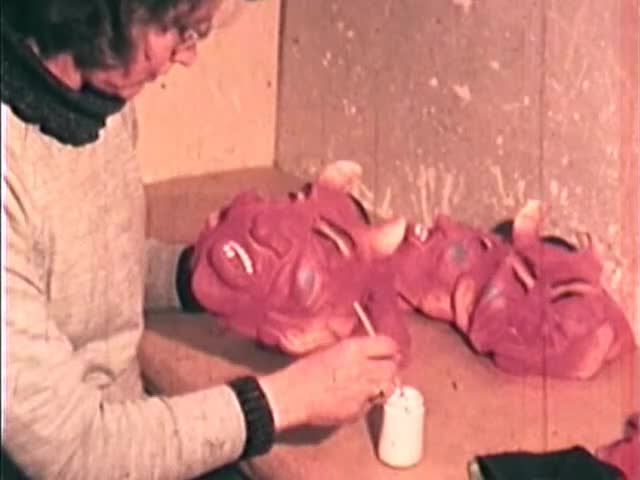 This video is not available to view remotely
Full length video - onsite only
Please read Understanding catalogue records for help interpreting this information and Using footage for more information about accessing this film.
Title: LIFE ON THE ISLAND OF SANDAY, ORKNEY
Reference number: 6375
Date: 1977c
Director: filmed by Mary Muir, Ian Tulloch
Sound: mute
Original format: super 8mm
Colour: col
Fiction: non-fiction
Running time: 59.18 mins
Description: A year on the island of Sanday, Orkney filmed by school pupils. Different aspects of island life are depicted - agriculture, fishing, cottage industries , transport, services, activities, and weather.
Credits: filmed by Mary Muir, Ian Tulloch
comm. w. Sophia Slater, Dave Drever
comm. sp. Mary Muir, Fiona Cormack et al
p. team Ann Harcus, Irene Rendall, David Moodie, Andrew Muir, Stuart Wilson
cast Dave Drever, Ann Harcus, Lindsay Skea, Lisa Drever, Andrew Muir, David Moodie

Shotlist: [shot-listed from VHS - manual control track]

landscape pan of Sanday - c/u sign on wall - credits - gvs cattle in field - shot 'Cattle Sale' notice in window - gvs cattle sale at Tofts, farmers and local people watching - shot of Kirkwall auctioneer John Copeland, cattle being led into shed, farmers departing from sale - shot of tractor pulling harvester and binder through field of oats - shots of men forming stooks in field - shots of Clayson combine harvester at work in field - shots of cattle in shed, in field and eating turnips in farmyard - shots of sheep in field - shots of threshing mill at work in farmyard, farmers stacking hay, baler producing bales (5.07) wide shot of tractors in field for ploughing match - closer shots of tractors ploughing, observers watching - c/u shots of tractor makers' names, David Brown, John Deere, Massey Ferguson - shot of farmer driving tractor with ploughing guideline - gvs of sheep and lambs on farm - tracking shot of cattle on road (7.43) gv of Kettletoft harbour - shots of 'manure boat', sacks of fertiliser being winched on to harbour - shots of tractor spraying field with slurry - shots of tractor spreading manure in field (9.31) shot of fishing boat at harbour at Kettletoft - shots of boy repairing lobster creel - gvs creels at harbour - shots of fishermen setting creels from small boat - shots of fishing boat 'Fair Maid' approaching harbour - shots of fish scales at harbour, lobsters in basket, agent / harbour-master weighing lobsters and returning them to kist in water - l/s pier (13.22) shots of maps showing distribution of Sanday products throughout world - shots of older women knitting in kitchen - shots of young woman and boy machine-knitting (14.39) int shot of wool store - shots of 'wool night' at store, local knitters preparing products for sale, including Icelandic sweaters - shots of women sewing on labels and packing sweaters (16.07) map showing worldwide distribution of latex masks - shot of 'Croft Crafts Ltd' sign - gvs of production of latex masks using moulds - shots of Halloween masks being spray-painted and hand-painted, then cut (17.36) map showing worldwide distribution of electronics - shot of former school at Sellibister, used as electronics factory - int shots in factory, workers soldering and testing circuit boards - shots of sea and beach, boys gathering seaweed, 'tangles', and stacking it on stone structures to dry - gvs of seaweed being sorted at pier and winched on to boat (20.37) AMENITIES - shots of local doctor driving in to Lady village in Land Rover to visit patient - shot of district nurse arriving at farm in Mini - shot of local vet on rounds in Land Rover (22.19) shots of engineers working on electricity supply pole, repairing power lines - shot of water hydrant sign - shots of excavator digging trench in field for water pipeline - shot of tap running in kitchen - shot of new school? building - shots of local postman and Royal Mail Mini van - shots of Post Offices at Kettletoft, Burness and Lady - shot of Royal Mail Mini on rounds - shots of Loganair aircraft landing, passengers disembarking and boarding - shots of Royal Bank of Scotland employees arriving at old branch, foundations of new building adjacent, then building completed - shots of Loganair aircraft taxiing and taking off from airfield - shots of steamer 'Orcadia' arriving at pier, gangway attached, passengers disembarking, captain on bridge, Land Rover being winched on board - shots at sea, mv 'Islander' passing - shots of cargo being unloaded at pier and shots on board Islander (31.34) shots of Loganair Britten-Norman Islander G-AXKB arriving at airfield, passengers disembarking, then plane taking off again - shot of Kettletoft Garage, visitor signing papers to hire car - visitors get into hire car and drive to holiday cottage - shots of visitors in Kettletoft entering bakery - int shot of bakery (34.12) shots of two youths getting off steamer at pier and putting up tent at beach, collecting firewood, starting fire, hiring bicycles from shop and setting off up road - gvs walkers at Holms of Ire - shots of people walking across rocks at the Start, walking towards lighthouse - c/u gull - shots of Start Point lighthouse, light revolving, high gvs from lighthouse gallery (38.24) shot of people walking towards Neolithic chambered cairn at Quoyness - shots of cairn and sign - shot of visitors entering cairn and closing gate at shore (39.32) WEATHER - sequence of shots of island in bad weather, rain and wind, stormy sea, some shot from inside car with windscreen wipers on - gvs stormy weather at Kettletoft pier, waves and spindrift - gvs of island under snow, snow-plough coming along road - shot of people playing beside house in sea-mist - gvs of beaches and sunset (42.27) ACTIVITIES - shot of army cadets on parade and drill - shots of Brownies meeting and Guides around campfire - int shots of Guides and Rangers' annual old folks' show, singing and dancing, can-can routine - shots of old folk having tea and home baking (44.49) gvs of football match - shots of people on shore gathering razor clams, 'spoots' - shots of model yacht enthusiasts' regatta on Roos Loch (45.56) shots from 'Orcadia' leaving pier at Kettletoft - shots of pennants on board and passengers - shots arriving at Kirkwall, departing again with crowds waving from pier (47.27) shots of North Isles sports on playing fields, including high jump - shots of annual hoeing match in field - shots of cattle and industrial show day, sheep in pens and cattle being groomed - shots of Shetland ponies on display, sheep and cattle (50.11) shots of pier, passengers departing on steamer - gvs of Sanday school, including primary children dancing in class, fluoride mouthwash being handed out, primary classes at work - shots of 'Story of Grain' project - shots of schoolchildren on fieldwork visit to local farm - shot of school janitor mowing lawn - shots of senior pupils making baskets, flying kites, showing French cookery, machine knitting - shots of Orkney County Council School Dental Clinic mobile caravan in playground - int shots of dentist at work - shots of senior pupils working on school magazine - shots of pupils working on film - shots of pupils leaving school and being picked up by minibus - sunset gv and map of island, ecs - acknowledgement (59.18)