LIVING LAND, the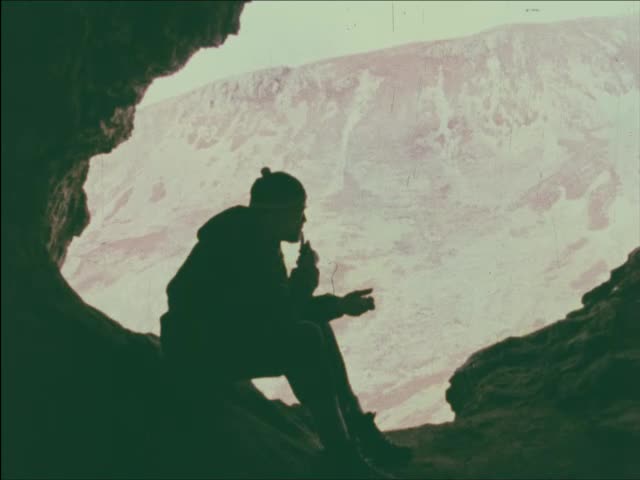 This video is not available to view remotely
Full length video - onsite only
Please read Understanding catalogue records for help interpreting this information and Using footage for more information about accessing this film.
Title: LIVING LAND, the
Reference number: 3046
Date: 1977
Director: w .& d . Charles Gormley
Sponsor: The Highlands & Islands Development Board
Production company: Tree Films
Sound: sound
Original format: 16mm
Colour: col
Fiction: non-fiction
Running time: 51 mins
Description: An explanation of the role of man in shaping the environment, with particular reference to the Highland landscape.
Credits: presenter Duncan Carse
sd. rec. Ian Leslie
ed. and p. Bill Forsyth
ass. cameraman Mike Coulter
p. man. Iain Smith
p. ass. Margaret Fitzpatrick
ph. Jon Schorstein
m. John Maxwell Geddes
researchers Peter McGurn, Dan McKinney
co-ordination Calum Munroe
Shotlist: PART I
pan across Scottish mountains (.58) Duncan Carse talking to camera standing in limestone cave and explaining how inhabitants lived in such a cave (1.36) pan limestone valley and mountains (2.51) shot of mountainside with snow falling and shots of Duncan Carse sitting in cave smoking pipe talking about that countryside (3.40) title overlay (3.46) DC in his car (4.10) tracking shot Highland single track road from car and panning shot Highland moorland (4.47) DC walking in Highland glen landscape where forests used to be (6.57) DC walking in traditional Scots Pine forest above Loch Maree (8.45) DC in Poolewe Gardens and shots of the Gardens (11.32) gvs barren Highland landscape (12.34) DC walking in landscape and brief shot of crofter digging peat (13.24) l/s two standing stones (13.32) aerials Scottish mountain summits, valleys and glens (16.40) shots of cattle and landscape (17.30) gvs derelict stone cottages on seashore (18.42) aerials empty hills and glens (19.40) CD walking along beach (20.12) aerials landscape at edge of sea (21.05) l/s small fishing boat entering small harbour (21.21) woman taking washing off a line at a croft and shot of children sitting beside tethered lamb as tractor drives by (21.42) shot of woman on bicycle on her way to crofting village (21.53) shot of crofting village, tractor at work ploughing in field and gvs crofting village by sea (23.34)

PART II
tinted shots of Stromness, Orkney (.25) DC walking down street in Stromness and shot of fisherman at his rowing boat on shore (.48) DC walking down street to plaque on wall reading "There Watered here the Hudson Bay Coy's ships 1670-1891, Capt Cook's vessels Resolution and Discovery 1780 ...." (1.01) pan buildings by waterside in Stromness (1.25) DC explaining the origins of Stromness (2.03) shot of Stromness house by waterside and narrow alleyway leading to it (2.17) DC walking down street in Stromness and entering a traditional house with ints. of DC inside house (3.41) pan of DC walking in street in Ullapool (4.14) aerials Ullapool (4.29) DC getting into car and driving off from Ullapool (4.50) c/u sign for "Skye View Camping and Caravans" and l/s caravan site (5.02) gvs Aviemore and aerials Aviemore (6.50) aerials landscape (7.18) shot of a helicopter carrying a log to hilltop and depositing it on ground (7.49) aerials fertile landscape (8.47) aerials unidentified castle (9.20) gvs fertile landscape with horses, cattle and ploughed fields (10.03) shots of ruined Spinningdale mill (10.25) gvs Beauly, Invernesshire with shots of main street and houses and ext. Spar foodmarket with Land Rover pulling away from shop (11.41) l/s Land Rover driving along Highland road (12.15) l/s tractor in field (12.23) gvs landscape (12.44) shot of Land Rover driving up road to farmhouse (13.00) gvs land and seascape of Tiree (13.47) aerials dam (14.10) aerials and gvs landscape (14.40) DC in forest (15.36) l/s fishing boats coming into harbour at sunset (16.40) shots of fishing boats in busy harbour (17.30) ints. boatbuilding yard with men at work on boats (17.52) DC walking in boat yard (18.16) l/s ship sailing past oil terminal off Orkney (18.36) pan houses at waters edge in Stromness (19.08) shot of fishing boat heading out to Scapa Flow (19.32) shot of DC on board a boat arriving at Flotta (19.48) gvs construction sites on Flotta (20.25) DC talking at an oil terminal on Flotta (21.21) shots of go-karting at Aviemore (21.37) bowling on a green in shadow of oil terminal on Orkney (21.50) gvs oil terminal (22.06) shot of boy running on beach with his dog (22.52) shot of an Austin Morris car on single track road (23.48) ferry and bridge (24.17) visuals loch (24.36) visuals landscape (25.07) l/s herd of deer by ruined cottage (25.12) DC talking in landscape (26.02) aerials mountains and lochs (27.14) ecs (28.04)