VICKERS: A Commonwealth of Skills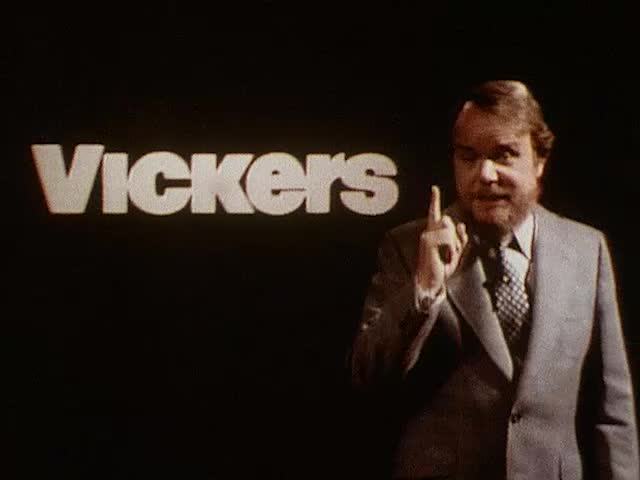 This video is not available to view remotely
Full length video - onsite only
Please read Understanding catalogue records for help interpreting this information and Using footage for more information about accessing this film.
Title: VICKERS: A Commonwealth of Skills
Reference number: 6308
Date: 1981
Sponsor: Vickers Ltd
Sound: silent
Original format: 16mm
Colour: col
Fiction: non-fiction
Running time: 24.49 mins
Description: Overview of all the interests in various smaller companies and industrial fields held by Vickers after the merger with Rolls Royce Motors in 1980. This includes- ship stabilisers by Brown Bros; Crabtree printers ; medical equipment ; factory floors, steering for ships etc. Breakdown on the profits earned in 1980 after the merger. Interview with the Chief Executive regarding the future of the company and the restructuring of management and company policies.

Vickers merged with Rolls Royce in August 1980.

Additional information supplied at October 2017: At around 4 minutes: "Formed in 1956, Medelec Ltd of Woking, Surrey became the world's leading producer of electro-diagnostic equipment, with massive sales in Japan and the USA. The MD, Arthur Craven sold the company to Vickers around 1979.)"


Credits: presenter Brian Redhead
Shotlist: (00.00) montage of shots showing the varied work of the company superimposed with title (00.29) Brian Redhead introduces the wide range of Vickers work and how it had adapted since August 1980 merger with Rolls Royce (01.32) archive film illustrating the extent of the work of the company (war, aircraft such as the Spitfire, armaments, ships, like Dreadnought, the first nuclear powered submarine, steel products) (02.09) Brain Redhead comments on how nationalisation changed working practices, new skills had to be utilised in new markets. How the merger with Rolls Royce came to pass (02.42) c/u logos for Rolls Royce and Vickers (02.51) Brian Redhead introduces then illustrates with the use of archival film and contemporary footage, the varied work of Vickers - beginning with printing (ints Crabtree Vickers Works in Leeds; printing presses such as the 'Sovereign', new presses (00:03:39:00) gvs work of Howson - Algraphy in Leeds (aluminium plates for lithographic printing, new manufacturing plant under construction) (04.11) medical equipment made by Vickers Medical in Basingstoke (baby incubators, isolation disease chamber), Medelec Ltd. in Old Woking making measuring devices, electronic expertise; Precision Components at Crewe making knee joints, hip joints; the development of the 'Magiscan' (05.06) the work of Vickers Instruments in York, precision surveying, optical equipment, precision and quality control equipment; the work of Vickers Maxicheck, Derby (05.50) Vickers Dawson's work in the areas of bottling, food processing and packing (06.44) exts 'Inpac Automation Ltd. Packaging Machinery' at Southall, end of line packaging, shrink wrapping (07.08) ints desk filing systems office systems to put computer hardware upon. Vickers Business forms, the European leader in continuous stationery (07.42) Brian Redhead to camera, discussing the experise Vickers has in mass production, provisi0on of complete factory facilities services for other companies (08.28) Brian Redhead to camera again, speaking of Vickers' experience, technological expertise, fine precision work and an ability to adapt to progress and change (08.58) archive film of submarine aircraft, military engines, defence systems, tanks, their work with UK naval Marine Engineering (Brown Brothers ship stabilisers) - illustrated throughout with stills (10.12) introduction to the work of Rolls Royce Crewe Motors (Silver Spur, Silver Spirit, diesel division) (11.05) industrial locomotives used all over the worldmade by Thomas Hill, Rotherham and powered by Rolls Royce engines (11.18) new work in the fields of rocket motor casing, components for nuclear engineering produced by BEJ of Weston Super Mare, manipulating equipment for handling radioactive materials supplied by Nuclear Projects Division in Swindon, Design and Projects Division providing expertise for Underground Railway systems, hydraulics anchoring system for the first offshore oil platform in the world (12.17) overseas interests in Australia and South Africa briefly discussed (12.33) Brian Redhead explains the Vickers Financial Results of 1980 with aid of diagrams (18.05) Brian Redhead conducts i/v with David Plastow, Managing Director and Chief Executive of Vickers. A vision of mutual success, competition the only way to survive, investment, the benifits brought by the merger with Rolls Royce - broadening technology, expanding the businness, less bureaucracy, management and budgeting structures for the company, recession planning, redundancy and reinvestment, communication across the organisation (24.45) VICKERS (24.49)