SEVEN AGES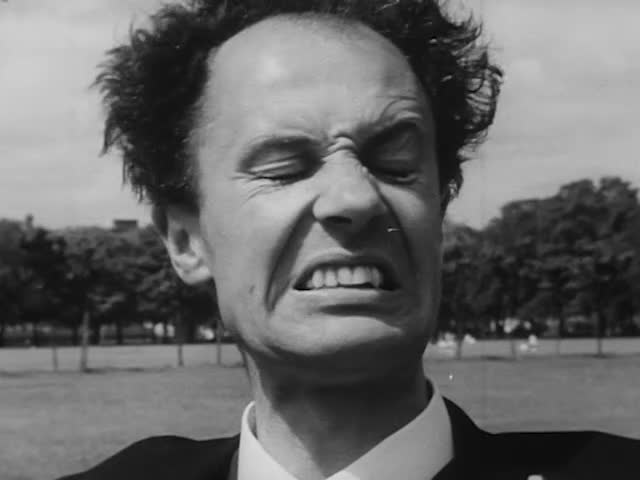 This video is not available to view remotely
Full length video - onsite only
Please read Understanding catalogue records for help interpreting this information and Using footage for more information about accessing this film.
Title: SEVEN AGES
Reference number: 6278
Date: 1957c
Director: d. Ian Brock
Producer: Jim Hickie
Sound: mute
Original format: 16mm
Colour: bw
Fiction: fiction
Running time: 15.50 mins
Description: Humorous amateur fiction tale covering the seven ages of man from the cradle to the grave.

See also ref. 6574 - which records the gala premiere of this film.

Part of Edinburgh Cine and Video Society Club library of films, club productions, individual members works and miscellaneous other titles. A folder describing the entire collection was deposited January 2002.
Credits: Edinburgh Cine Society presents

Nursemaid Mary Rider
City Gent Alec Paulin
Schoolboy Eoin Ramsay
Mother Olive Black
Lover John McDermott
Mistress Anon
Soldier Harry Mainey
Native Donald Walker
Judge Frank Gibbon
Prisoner David Steele
Pantaloon John L Anderson
Skeleton Anon

cont. Sheila McKay
ed. Alec Lile
m. Peter Kerr
sd. rec. Craighall Studios Edinburgh
l. & cam. Douglas Lornie, Alec Lile
p.ass. Evelyn Dunnet, Bill McIntosh
nar. John Piper
p. Jim Hickie
Shotlist: title, spinning globe stopped by man in costume who says "All the world's a stage" (0.34) Princes street, brief gvs various sports, bingo sign (0.54) man being thrown out of pub, staggers into public toilet (1.17) woman with baby in pram in park. Baby drops rattle, well dressed gentleman picks up rattle and returns it. Baby is sick on man (3.16) schoolboy being chased from house by mother. Passes Trinity Tuck Shop (4.05) boy leaves shop with ice lolly, bigger boy takes it and gives it to another child. Boy takes it back. He kicks a ball into park and cannot retrieve it through fence (4.56) police arrive and take schoolboy away (5.09) ext. playground, police take boy to school and pass him to teacher taking register (5.32) young man playing piano in sitting room (6.37) c/u photo man in drag (6.45) soldier lying in grass, running about with gun and flag, fighting man in grass skirt (8.15) int. court, judge takes his place. Drunk man up on charges. Everybody in room laughs (9.54) judge is reading from 'Bash Street Kids' comic book inside his law book (10.02) elderly man sitting on bed, undressing and putting nightgown on. (11.55) he lights a pipe, reads the Sporting Life and accidentally sets light to newspaper (12.35) fire engine rushing towards scene, as is ambulance (12.45) brief shot of the woman and baby, schoolboy, young man, soldier and judge (12.53) man in hospital bed swathed head to toe in bandages, nurse taking temperature (13.10) three elderly woman coming to visit, nurse unwinds bandages (14.08) skeleton in bed with hat on (14.26) ecs THE END (15.17)