KINGS OF THE WILD FRONTIER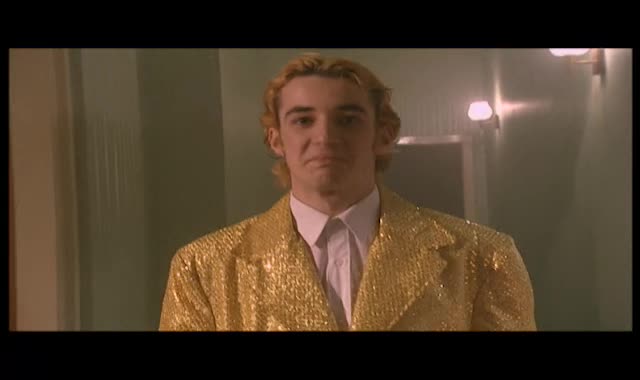 This video is not available to view remotely
Full length video - onsite only
Please read Understanding catalogue records for help interpreting this information and Using footage for more information about accessing this film.
Title: KINGS OF THE WILD FRONTIER
Reference number: 5968
Date: 2000
Director: d. Andy Goddard
Sponsor: Scottish TV, Grampian TV, Scottish Screen National Lottery Fund
Producer: Gaynor Holmes
Production company: Ideal World Films
Sound: sound
Original format: 35mm
Colour: col
Fiction: fiction
Running time: 23.43 mins
Description: Jerry and Gordy are white trash hoodlums surfing into adulthood as their factory town school closes for the summer. But their teenage daydreams turn sour when the test of friendship and the ties that bind transform an innocent quest for freedom into a baptism of fire.

Production file held. Also known as THE ONLY TWO COMEDIANS.

New Found Land commissions six digital 24-minute dramas for television broadcast and theatrical distribution. The scheme runs every two years.
Credits: Gordy Stuart Wilkinson
Jerry Mark McConnochie
Billy Keith Fleming
Kenny Anthony Donaldson
Danny Bill Murdoch
Col Callum Johnston
Whitey John Kinnaird
Debbie Debbie Welsh
Jude Judith Williams

p.man Rebecca Knapp
p. executive Angus Lamont
1st ass. d. David Tarvit
locations man. Sue Porter
p. co-ordinator Julie Connor
p. accountant Jillian Morris
art d. Alistair Edwardson
standby props Stuart Watters
sc. supervisor Belinda Newman
focus puller Kevin O'Brien
key grip James Coulter
gaffer Derrick Ritchie
dubbing mixer David Murricane
on-line ed. Daniel Meadows
unit still ph. Charlie Crawford
film stills ph. Stephen Hall
stunt co-ordinator Michael Scott-Law
2nd ass. d. Michael Keillor
locations scout Naomi Liston
locations ass. Stephen Hall
camera ass. Jonny Kerr
boom operator Graham McCormack
make-up ass. Julia Russel
ass. accountant Fiona Menzies
p. ass. Sarah Jolly, Jamie McIntyre, Llana Rudnick
lighting ass. George Geddes, Mark Sneddon
p. runner Johnnie Mundell
d. of ph. Alan McSheehy
p. designer David Jennings
costume designer Carole L. Millar
make-up designer Irene Napier
sd. rec. Mike Thomas
composer Ross Campbell
ed. Alan Knight
exec. p. Mark Grindle & Dan MacRae
w. Andy Goddard & Ian Rankin
Shotlist: (09:57:30) [EBU bars] (10:00:00) programme(10:22:02) ecs (10:22:54)