VICTORIAN SCOTLAND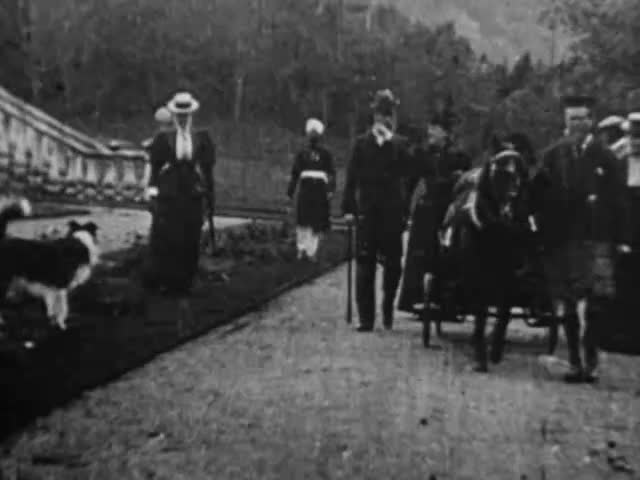 This video is not available to view remotely
Full length video - onsite only
Please read Understanding catalogue records for help interpreting this information and Using footage for more information about accessing this film.
Title: VICTORIAN SCOTLAND
Reference number: 4707
Date: 1980c
Director: d. Mike Alexander
Sponsor: Scottish Tourist Board
Production company: Pelicula Film
Sound: sound
Original format: 16mm
Colour: col
Fiction: non-fiction
Running time: 28.48 mins
Description: The areas of Scotland influenced by the Victorian era. Queen Victoria in Scotland and general views of great Scottish landmarks both in Victorian and modern times.

The b&w early footage contained within this film was taken from the film ref. 0044 HOLIDAY TRIP TO GLASGOW AND THE CLYDE COAST.
Credits: 'La Traviata' performed by Scottish Opera.
m. Owen Hand
comm. w. Douglas Eadie
comm. s. Paul Young
p. man. Paddy Higson
sd. rec. Louis Kramer
ass. cameraman Lewis Foster
ed. Bert Eeles
cameraman Mark Littlewood
Produced for The Scottish Tourist Board in association with Phillips in Scotland
Shotlist: [b&w] footage of Queen Victoria in a carriage in Scotland, title (0.47); [b&w] street with trams, George Square, [col.] George Square, [b&w] Central Station (1.33); Wemyss Bay in Victorian and modern times (1.53); Holiday makers on Rothesay Pier, Gvs steam yachts of all shapes and sizes, Fading from Victorian to modern times (2.28); Balmoral Castle, people horse riding, Blair Castle (3.48); deer in the countryside (5.04); Historical buildings (5.23); Gladston - children on a tour around the interior of the house (6.30); Hills and Glens of the Grampians (6.51); Strathpeffer, Spa Pavilion (7.20); Wester Ross, loch and landscape (8.12); Steam Train, Railway Station, Station Hotel (9.15); Forth Road Bridge (9.21); an oil lamp (9.33); Steam engine being stoked with coal, Snow topped Cairngorms in the distance (10.40); Steam control machines, weaving factory, malt factory, water mill, cogs turning to pass grain (12.58); East Coast fishing village (13.09); the wooden frame of a boat (13.21); Anstruther Fisheries Museum (14.42); still shots of Glasgow during the Victorian Times (15.11); tracking shots of cranes along the Clydeside (15.30); shot of A.Gardener & Son shop (15.36); Glasgow School of Art, Charles Rennie Mackintosh room (16.00); int. of the School of Art and its exhibits (16.42); Kelvingrove Park, Glasgow University, Glasgow Art Gallery, Botanic Gardens (17.04); Pleasure Cruising, Waverley (18.52); Photographs of : Lothian football players, curlers, hunters (19.24); Highland Games, Pipers marching gvs of Highland Games (21.07); gvs of 'Nostalgic Scotland' where people are dressed up in costume and participating in 'Victorian' activities (22.06); a woman singing on stage (23.10); an orchestra playing to some diners (24.28); music being played to people in a pub (25.10); 'La Traviata' being performed in the Theatre Royal Glasgow. ecs (28.48)