SCOTLAND'S KIRK FOLLOWS THE TROOPS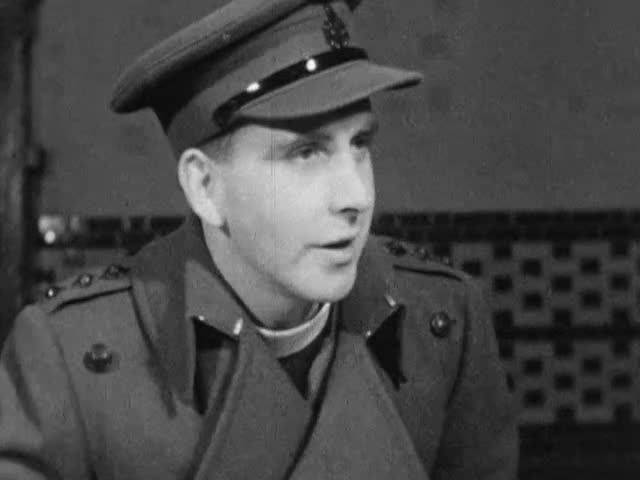 This video is not available to view remotely
Full length video - onsite only
Please read Understanding catalogue records for help interpreting this information and Using footage for more information about accessing this film.
Title: SCOTLAND'S KIRK FOLLOWS THE TROOPS
Reference number: 3911
Date: 1940 c
Sponsor: The Church of Scotland, Huts and Canteens Committee
Production company: Campbell Harper Films
Sound: silent
Original format: 16mm
Colour: bw
Fiction: non-fiction
Running time: 17.10 mins
Description: A report on the work of the Church of Scotland Huts and Canteens Committee. The Committee provided canteens, religious services and quiet rooms for servicemen and women during the Second World War.
Shotlist: Credits. (0.16) 3rd September 1939. WAR Within 24 hours THE CHURCH ANSWERS THE CALL. Emergency powers allow the immediate provision of spiritual and material comfort for the men rallying to the colours. FRANCE FALLS. Hut workers in France. The entire personnel escaped from the enemy (0.49) Still of uniformed women with C of S armbands. (0.58) Church of Scotland Huts and Canteens evacuated and £20,000 is lost. (1.06) DUNKIRK and after. Never before have such huge concentrations of our fighting services been assembled in Scotland. Never before have they so urgently required whatever service it is within our power to provide. And so, in spite of cruel loss in France THE CHURCH CARRIES ON (1.33) c/u sign: "Church of Scotland Offices" (1.39) tracking shot of passing floors from cage lift (1.46) ms young woman operating telephone switch board (1.52) c/u's using filing cabinet, typing at manual typewriter (2.06) c/u note in notepad "Monday 5th, prepare report on work of Huts and Canteen Committee" (2.14) c/u typed note: The Huts are substantially built, and consist of well equipped kitchen, spacious canteen, recreation room, and Chapel. (2.26) ls hut; ms soldiers crowding into a hut; c/u sign: "Church of Scotland Huts" (2.49) Everything possible is done for recruits, many of whom left home for the first time. (2.57) Men in civilian dress having their passes checked by soldier with RPS armband (3.08) ls men walk towards large building with clock tower (3.15) men enlisting for the war; man speaking to chaplain; and being given their uniforms. (4.18) Soldiers entering the canteen; poster listing games that can be borrowed, and hot drinks with prices (4.40) ints. Soldiers drinking, smoking, chatting; c/u's individuals (5.21) New comers are sure of a warm welcome, are helped in every way possible and encouraged to write home, free note-paper being provided. (5.29) volunteer handing paper to soldiers in canteen. (6.05) Service Chaplains find Huts invaluable places for friendly contact with men. (6.15) gvs Chaplain talking to the men (7.29) In certain areas, Huts, Clubs and Hostels are specially arranged for the women in the Services. (7.40) c/u sign: "Church of Scotland Service Women's Club"; exts. women entering club from busy street (8.02) ints. women having tea in canteen, some writing letters (8.42) Hut and Canteen activities are extremely varied, ranging through 'discussion groups' table-tennis etc., to impromptu concerts (8.52) c/u Piano being played, men singing; man stands telling jokes, c/u individuals laughing (9.44) No less valuable are the Mobile Canteens, sent out to the men in outlying & remote posts (9.53) Mobile Canteen van arriving at a post; ls group of men run from huts (10.19) gvs serving the men hot drinks and food; ms three sit in a ditch to eat (10.40) Often miles from civilisation, the 'mobile' is greatly appreciated contact with the outside world (10.48) man choosing a book from the van; men wave good-bye to the departing van (11.30) The large city canteens function, serving the needs of those en route for other posts, or those on leave - a "Home from Home." (11.42) Canteen door being opened (11.47) gvs Women in kitchen cooking and preparing meals, serving meals, washing dishes (12.42) buying supplies from the 'makeshift shop' (13.09) Servicemen and -women relaxing, reading a book or newspaper or napping; playing games, laughing (13.48) Some canteens have facilities which allow wives, sweethearts and friends to share their partners precious hours off duty (13.56) Soldier with his wife/girl friend; men and women playing table tennis, darts; sailor and servicewoman play snooker/pool (15.02) But while Huts and Canteens vary considerably in size, shape & character, one factor is common to all,- they are the centres of Christianity in the widest possible sense. ALL Denominations are welcome. (15.19) c/u sign: "Chapel & Quiet Room"; ints. men and women sit quietly in rows of chairs (15.50) Minister giving a sermon; people singing (16.19) The service thus rendered to the men and women of our fighting forces stationed in the homeland, is of tremendous value. Over-seas it is still greater, & where they are needed most, centres have been established. (16.38) Place names appear across a map of the Mediterranean and North Africa: Gibraltar, Malta, Alexandria, Cairo, Libya, Egypt, Aden, Suez, Jerusalem, Jaffa, Haifa, Persia (16.52) Church of Scotland Huts sign (16.55) But the demands made upon us are far greater than our funds will meet. We need £100,000 Will YOU help us NOW? (17.10)