QUEEN ELIZABETH I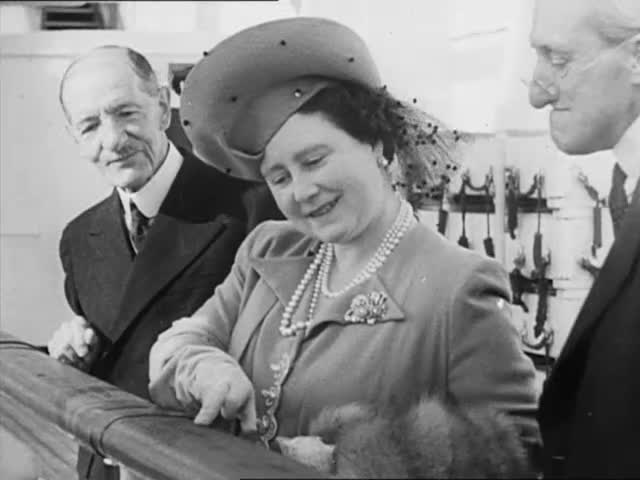 This video is not available to view remotely
Video 1

(currently displayed video)

Full length video - full length available onsite

The liner 'Queen Elizabeth' leaves Southampton at the end of the war, carrying a full complement of returning GIs. (clip)
Please read Understanding catalogue records for help interpreting this information and Using footage for more information about accessing this film.
Title: QUEEN ELIZABETH I
Reference number: T0174
Date: n.d.
Sound: sound
Original format: 16mm
Colour: bw
Fiction: non-fiction
Running time: 9.19 mins
Description: The unofficial and official maiden voyages of the liner 'Queen Elizabeth' in war and peace. Views of the ship during speed trials and in New York .
Shotlist: No credits. 'Queen Elizabeth' in wartime grey arriving in New York at the end of her unofficial maiden voyage. Approaching the quay alongside the 'Queen Mary', the 'Normandie' and the 'Mauritania' (1.13): - Leader - (1.23); Stills of troops (1.38); The Captain talking about a lucky escape during troop carrying voyage to Suez. More stills of troops on board (3.43); - Leader - (3.58); 'Queen Elizabeth' at Southhampton (4.15); Commodore Sir James Bissett talking about his commands (4.39); American G.I.s on board about to return home after the war (5.43); - Leader - (5.56); 'Queen Elizabeth' in Cunard livery. The Queen and the two princesses on board during speed trials (7.22); Passengers boarding liner for official maiden voyage. Tugs manoeuvre her out of the docks and the ship gets under way. Arrival at New York [last 3 secs no sound] (9.19)