UNIVERSAL NEWS No 394, ROLLING ALONG - SKATING ON THE ROADS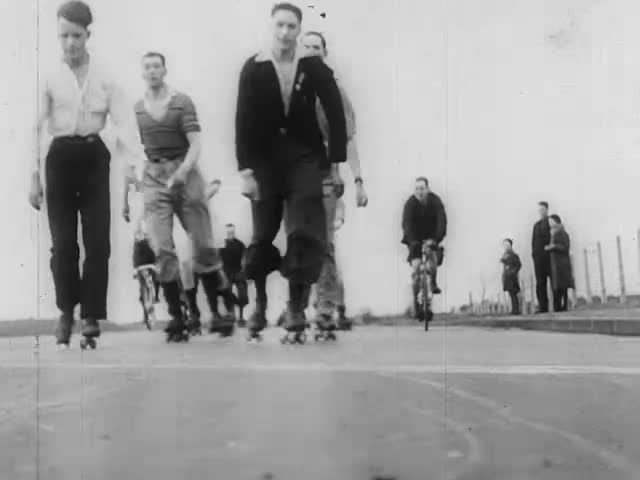 This video is not available to view remotely
Full length video - onsite only
Please read Understanding catalogue records for help interpreting this information and Using footage for more information about accessing this film.
Title: UNIVERSAL NEWS No 394, ROLLING ALONG - SKATING ON THE ROADS
Reference number: 3753
Date: 1934, April 19 (?)
Production company: [ Universal British Talking News]
Sound: sound
Original format: 35mm
Colour: bw
Fiction: non-fiction
Running time: 0.53 mins
Description: Roller skating race from Glasgow to Edinburgh.
Shotlist: Scotland. ROLLING ALONG Universal. (.03) Skating on the Roads. (.06) Glasgow to Edinburgh. (.10) Young men croached in a line lacing up their roller skating boots. (.15) C/u of the wheels of a boot being oiled, while still on the skater. (.18) L/s of starting line up. (.22) C/u of the skaters feet as they move off. (.24) Gv's of the men skating among men of bicycles. Policeman stops one of the bicycles getting too close to the skaters. (.46) C/u on the winner with two other men. (.53)