CONSTRUCTION OF RENFREW MOTORWAY: Stage One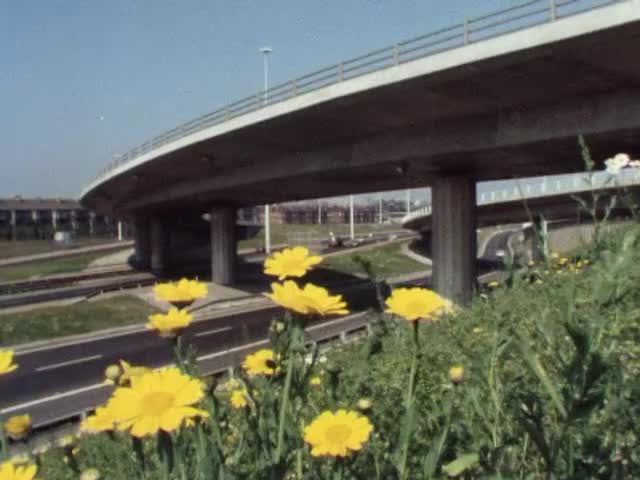 This video is not available to view remotely
Full length video - onsite only
Please read Understanding catalogue records for help interpreting this information and Using footage for more information about accessing this film.
Title: CONSTRUCTION OF RENFREW MOTORWAY: Stage One
Reference number: 3485
Date: 1977c
Sponsor: Strathclyde Regional Council
Production company: Ogam Films
Sound: sound
Original format: 16mm
Colour: col
Fiction: non-fiction
Running time: 29.44 mins
Description: Footage of the construction of part of the Renfrew motorway as illustrated in "A Highway Plan for Glasgow". Relates to issues proposed in the Bruce Report 1945 - a plan for the complete deconstruction of the existing Victorian city centre in order to create an new 'healthy and beautiful city' of modern architecture.
Credits: client Strathclyde Regional Council
engineer Scott Wilson Kirkpatrick
contractor Balfour Beatty Construction (Scotland) Ltd
architect and planning consultant Holford Associates Glasgow
principal sub contractors Balfour Kilpatrick Ltd., Limmer Roads (Scotland) Ltd., PSC Equipment Ltd., William Reid & Sons (Blacksmiths) Ltd., Stent (?) Foundations Ltd.
produced by Ogam Films for Scott Wilson Kirkpatrick and Balfour Beatty Construction (Scotland) Ltd.
Shotlist: titles (0.48) aerials west flank of motorway with traffic on it, intercut with drawn plans for motorway (3.46) shots of workmen excavating ground for motorway using diggers etc. for Scotland Street viaduct (5.19) aerials Dumbreck Road, Paisley Road and Helen Street (6.11) shot of train pulling out from iron-ore terminal on south bank of river Clyde (6.23) brief shot underground railway (6.39) construction and welding of piles for viaduct (Scotland Street) gvs mechanical diggers etc. (9.56) construction of temporary bailey bridge over railway track to iron-ore terminal (10.54) shot of train running alongside construction work of bridge over the railway at Dumbreck Road, intercut with drawing of plans for construction (14.00) laying foundations and men working on the construction of curving bridges, Ramps A & C, intercut with drawing of plans (25.30) brief shot of official opening of motorway (25.39) shots of people walking over pedestrian bridges over motorway and gvs traffic on motorway (27.21) aerials of motorway, intercut with tracking shots of motorway (29.19) ecs (29.44)