STV AT LUSS HIGHLAND GAMES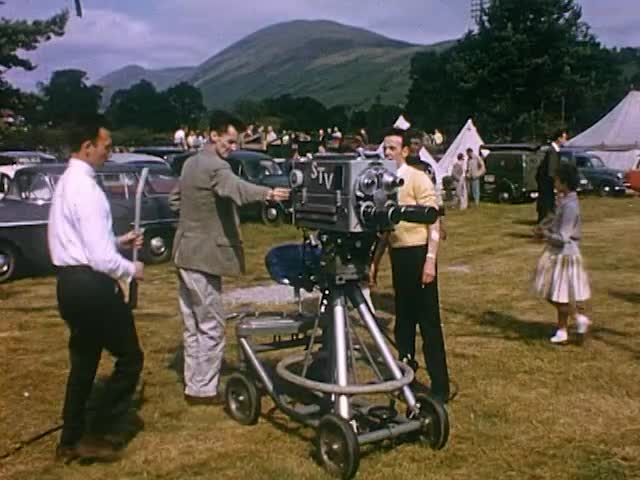 This video is not available to view remotely
Video 1

(currently displayed video)

Full length video - full length available onsite

Behind the scenes shots as Scottish Television crew set up their equipment to film the Luss Highland Games in the early 1960s. (clip - full length available onsite)
Please read Understanding catalogue records for help interpreting this information and Using footage for more information about accessing this film.
Title: STV AT LUSS HIGHLAND GAMES
Reference number: 3182
Date: 1961*
Director: [ph. Mario Ford]
Sound: mute
Original format: 16mm
Colour: col
Fiction: non-fiction
Running time: 16.07 mins
Description: Scottish Television outside broadcast crew at work at the Luss Highland Games.
Shotlist: c/u of crew setting up STV camera and shot of STV van (1.06) pipe band marching into grounds (1.30) shot of STV cameraman filming unveiling ceremony of plaque to commemorate the new stand erected to commemorate Sir Iain Colquhoun of Luss - Chieftain of the Luss Highland Gathering 1923-48 (2.28) shot of lone piper playing beside plaque (3.50) c/u of plaque (4.00) shot of cameraman and crew working at STV van and on scripts (?) (5.23) shots of competitors dancing the sword dance (6.20) pan and l/s of competitor putting the shot (6.50) in commentator's box (7.09) l/s of onlooking crowds and of cameramen at work with a pipe band marching past camera (7.47) shot of competitors dancing the 'highland fling' (8.00) cameraman on scaffolding filming sword dancing (8.26) policemen patrolling the grounds, moving children back, talking to officials, asking crowds to move back (10.12) crew inside the transmitter van (10.41) shots of some of the crew (11.10) brief shot of tossing of bale of hay (11.17) panning shot of grounds (11.35) shots of the obstacle course race (13.00) the cameraman at work (13.25) policemen talking (13.45) shots of car parking area (14.05) long distance runner coming into the finishing line (14.44) water/wheelbarrow game (15.02) putting the shot (15.27) tossing the bale of hay (15.50) putting the shot (16.07)