BRITISH MOVIETONE NEWS No 1741A, STATE VISIT TO SCOTLAND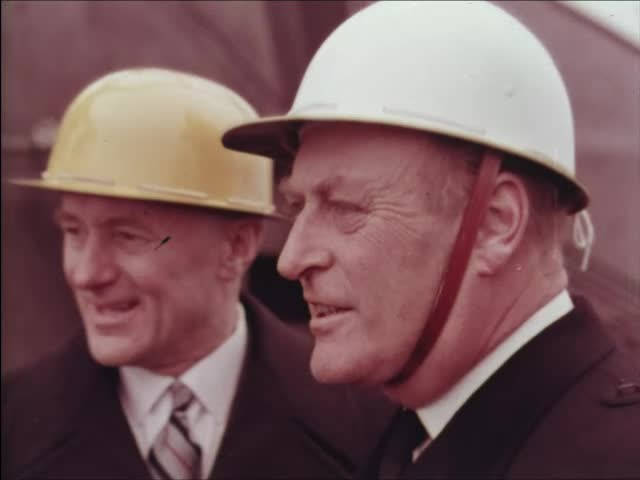 This video is not available to view remotely
Full length video - onsite only
Please read Understanding catalogue records for help interpreting this information and Using footage for more information about accessing this film.
Title: BRITISH MOVIETONE NEWS No 1741A, STATE VISIT TO SCOTLAND
Reference number: 1340
Date: 1962, October 18
Production company: British Movietone News
Sound: sound
Original format: 35mm
Colour: col
Fiction: non-fiction
Running time: 11.38 mins
Description: Queen Elizabeth, the Duke of Edinburgh and PM Harold McMillan welcome King Olav of Norway at Princes Street station, Edinburgh. The King visits the new Forth road bridge and is created Knight of the Thistle.
Credits: [comm. Leslie Mitchell]
Shotlist: Credits (.10); Shot across Edinburgh from Calton Hill (.14); Shot from castle down to Princes Street and the Gardens (.19); General views Princes Street and UK and Norwegian flags bedecking same (.31); Queen Elizabeth, the Duke of Edinburgh, Harold MacMillan, Prime Minister, the Lord Provost of Edinburgh, Sir John G Dunbar, and others at Princes Street railway station. Diesel engine pulling ceremonial train arrives. King Olav V of Norway alights and is greeted by Queen and others (1.13); General views of crowds at barriers (1.18); Queen and King Olav in open carriage proceed along Princes Street escorted by Household Cavalry (2.16); Exterior of Holyrood Palace. General views forecourt as procession arrives. King Olav inspects guard of honour (1st Battn. Argyll and Sutherland Highlanders). Shots of Household Cavalry (3.03); Exterior of McEwan Hall (3.07); Interior as King Olav is conferred with LLD by University of Edinburgh's chancellor, the Duke of Edinburgh (3.43); Edinburgh castle esplanade and entrance. Shots Scottish War Memorial inside castle as King Olav lays a wreath (4.30); Olav V arrives at Usher Hall. Shots inside during ceremony of Freedom of the Burgh (5.06); Shots of the Forth rail and road bridges. General views of the Forth road bridge under construction. King Olav on visit to top of the supporting towers. General views of half completed bridge (6.21); Shots outside St Giles Cathedral as Queen Mother, Queen Elizabeth and the Duke of Edinburgh arrive dressed in robes of the Order of the Thistle. Guard of honour of the Royal Company of Archers. Brief shot of the crowds. Royal family leave St Giles followed by newly created Knights of the Thistle. King Olav and the Earl of Home (Sir Alex Douglas-Home) (7.14); General views of a Clyde shipyard, probably John Brown's at Clydebank. King Olav on visit to yard (7.56); Exterior of factory, probably Weirs of Cathcart. Shots inside as King Olav tours the factory. Shots of power plant and sea water distillation equipment (8.37); Shots of Dumfries as King Olav meets members of the local Scottish Norwegian Society (9.28); Freedom of the Burgh ceremony (9.46); Shots of crowds at Palmerston Park, Dumfries, as King Olav arrives to board helicopter (10.11); Exterior of Dunvegan Castle. King Olav alights from car and is met by Dame Flora Macleod (clan chief) and her grandson. General views of the party. Shots as King Olav leaves again by helicopter. Dame Flora waves farewell to same (11.12); General views of surrounding countryside (11.28); ecs (11.38)