VILLAGE LIFE IN BRAEMAR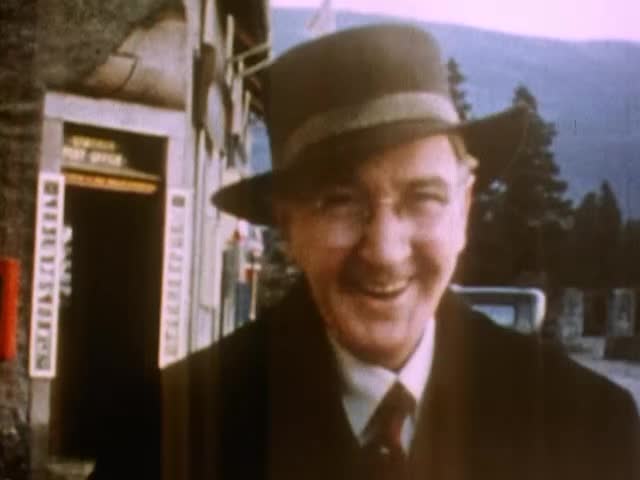 This video is not available to view remotely
Full length video - onsite only
Please read Understanding catalogue records for help interpreting this information and Using footage for more information about accessing this film.
Title: VILLAGE LIFE IN BRAEMAR
Reference number: 3146
Date: 1953 - 1954
Director: [filmed by John Stammers]
Sound: silent
Original format: std. 8mm
Colour: col
Fiction: non-fiction
Running time: 7.30 mins
Description: Village life in Braemar: its shops and local people.

See "The Way It Was" p.c. Grampian TV, Oct-Dec '94 for interview with John Stammers.
Shotlist: ls river running down to small house (0.12) ms group of children; girls highland dancing (0.23) gvs Esso filling station, brief shot mechanic working under bonnet (0.35) ls older woman hoeing her garden; ms younger woman waving; brief shot of dog in wheeled shopping bag (0.55) ls shopkeepers stand outside their shops, man wears a kilt; ms red-haired family group standing for camera (1.31) shots of older men walking in street, looking at camera (1.46) c/u babies in pram; children standing in front of shop window displaying knitwear (2.29) gvs local people and children walking towards camera, or posing (3.54) the minister, further shots passing people, c/u mother and two daughters standing outside Butcher's shop; shots shop assistants? standing in doorway; ms middle aged couple, in front of bootmakers; shots of men by their front doors; some dressed in kilt and cap (6.00) gvs woman and dog in garden "shake hands" (6.13) gvs village life, milk delivery, shots of householders in their gardens (6.56) close shots of family group, young woman, baby and child (7.18) shots two elderly women sitting on garden bench with a dog (7.30)