PRE-WEDDING CUSTOMS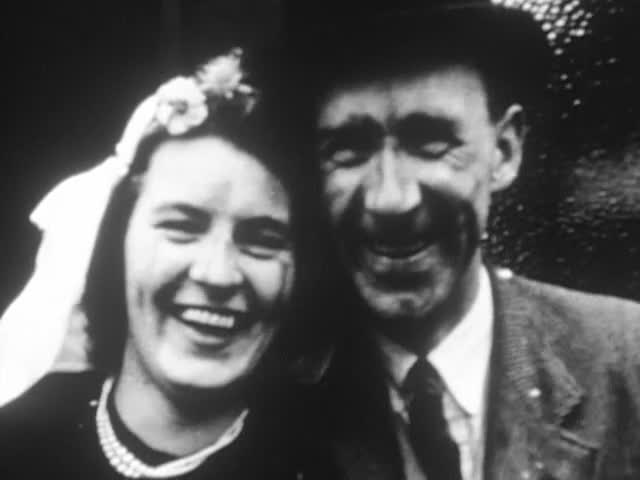 This video is not available to view remotely
Full length video - onsite only
Please read Understanding catalogue records for help interpreting this information and Using footage for more information about accessing this film.
Title: PRE-WEDDING CUSTOMS
Reference number: 3145
Date: 1948
Director: [filmed by John Stammers]
Sound: silent
Original format: std. 8mm
Colour: bwcol
Fiction: non-fiction
Running time: 10.11 mins
Description: Wedding celebrations, including the local custom of covering the bride and groom in soot and feathers.

See "The Way It Was" p.c. Grampian TV, Oct-Dec '94 for interview with groom John Stammers.
Shotlist: [col] scenics of loch, Shetland pony (0.06) Gordon Highlanders marching along tree lined road. Scenics (1.05) [b/w] man (Ernest McLachlan?) mixes vaseline and soot (1.14) (John and Helen Stammers) bride and groom covered in soot and feathers taken by cart, led by small band, through streets of Braemar (2.16) c/u sign "Saloon Bar"; Scenes outside pub as the couple arrive; cart is pulled to the door and he pair alight. Children, pipers, scenes of merriment; c/u couple smiling (3.42) shots of woman running away, being caught and daubed with soot and feathers (4.02) c/u Sign outside Registrar's office (John Stammers Registrar) and [out-of-focus] c/u of marriage certificate (4.10) [col] wedding day (Mary & John Henderson?) preparing the car; shot of black cat; car driving away (4.57) ls church; ms guests arrive and pose for the camera; bridal party arrive and enter church (6.57) ls couple emerge from church, piper playing. gvs Groups pose for photos. bride and groom climb into car and drive away (7.56) ls large crowd outside hotel, with many small children; Guests and bridal party arriving at reception (some light in camera) (9.55) ls group shot of bridal party, pan l-r over faces (10.11)