GATHERING OF THE BRAEMAR ROYAL HIGHLAND SOCIETY, the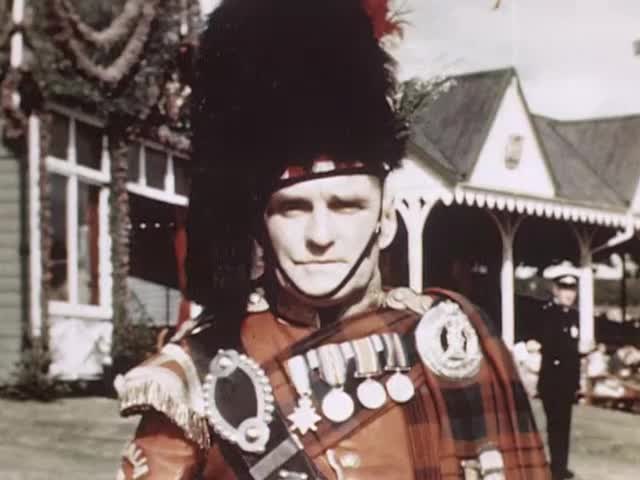 This video is not available to view remotely
Full length video - onsite only
Please read Understanding catalogue records for help interpreting this information and Using footage for more information about accessing this film.
Title: GATHERING OF THE BRAEMAR ROYAL HIGHLAND SOCIETY, the
Reference number: 2737
Date: 1949c
Director: filmed by J. Macdougal, J.B. Macdonald
Sponsor: J.E. Henderson Ltd.
Sound: silent
Original format: 16mm
Colour: col
Fiction: non-fiction
Running time: 14.49 mins
Description: The Braemar Highland Games attended by HM Queen Elizabeth and King George VI.
Shotlist: credits (0.40) panning views of crowds at games and brief shots of highland dancing (1.40) c/u shots men throwing the hammer (2.27) brief shot children in highland dance competition (2.48) c/u men putting the shot and throwing the hammer (4.10) brief shots of piper, highland dancing, tossing the caber, pipe bands (5.30) shots of men tossing the caber (4.46) pipe band marching round ground followed by royal motorcade (7.25) shots of Queen Elizabeth, King George VI, Princess Elizabeth and Prince Philip stepping out of car and meeting dignitaries (7.45) shot of royal party on platform [slightly OOF] (8.06) gvs pipe bands and shots of leaders of pipe bands being presented to royal party (11.50) brief shots men's sprint race and of highland dancing (12.12) c/u man tossing the caber (12.37) c/u wrestling and throwing the weight (13.09) shots of royal family leaving in motorcade (14.49) The End