SPRING IN GALLOWAY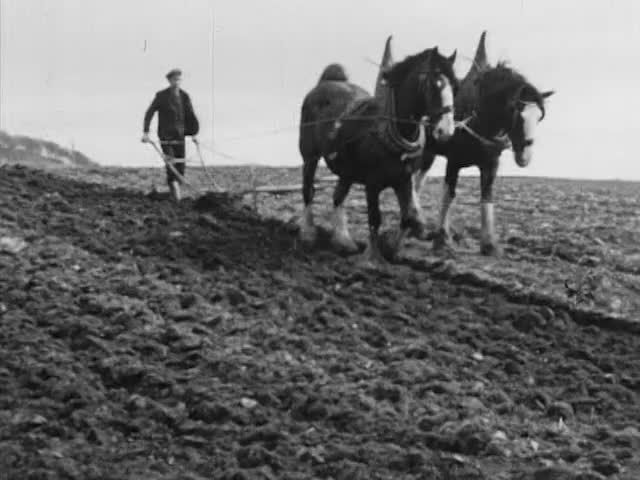 This video is not available to view remotely
Full length video - onsite only
Please read Understanding catalogue records for help interpreting this information and Using footage for more information about accessing this film.
Title: SPRING IN GALLOWAY
Reference number: 2721
Date: 1930s,c
Director: [filmed by John Gray]
Sound: silent
Original format: 16mm
Colour: bw
Fiction: non-fiction
Running time: 10.29 mins
Description: A ploughman brings his horse to the village blacksmith, trees are felled and logs delivered to the sawmill, men gather mussels on the beach and fishermen mend their nets, in this amateur film of life in Galloway.

Note: Film-maker is not the same John Gray as at ref. 0394 COOPERAGE.
Shotlist: gvs rocky river in full spate after winter rains (0.49) gvs quiet river with swan and ducks and c/u spring blossoms (1.32) gvs horse-drawn plough and hand-sowing (2.25) gvs ploughman bringing plough horse to village blacksmith and c/u blacksmith shoeing horse, and shot of horse returning to plough (3.15) shots of herons nesting in treetops (3.32) gvs men felling and chopping up trees and delivering logs by horse cart to sawmill (4.13) shots of men operating circular saw on a log (4.44) gvs shepherd and his dog at work and shots of Border ewes feeding lambs with c/u of shepherd bottle-feeding lamb (5.23) shots of gardeners picking daffodils and hoeing etc. by a watermill, c/u bees and hive (6.14) gvs Ayrshire cattle returning to be milked, with farmhand and his Border collie and milk churns being loaded onto van (6.46) c/u sheep, cows and pigs arriving at market on market day (7.39) gvs Solway coastline, c/u men gathering beach mussels (8.20) c/u fishermen mending boat in harbour, gvs cyclist leaving harbour (8.46) gvs Kirkcudbright and ruined castle of the McLellans (9.00) panning shot of Anwoth Church and Covenanters' graveyard (9.11) panning shots ruined Dundrennan Abbey (9.48) visuals landscape, hill-walkers and Galloway cattle (10.29)