CONSEQUENCES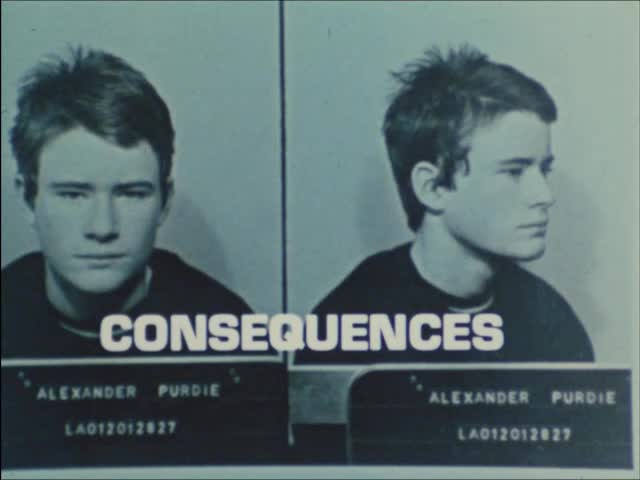 This video is not available to view remotely
Full length video - onsite only
Please read Understanding catalogue records for help interpreting this information and Using footage for more information about accessing this film.
Title: CONSEQUENCES
Reference number: 2537
Date: 1976c
Director: d. Charles Leigh Bennett
Sponsor: Scottish Police
Production company: IFA (Scotland) Ltd.
Sound: sound
Original format: 16mm
Colour: col
Fiction: non-fiction
Running time: 24.22 mins
Description: The dramatised account of how a teenager gets into trouble with the police, ending up in a young offender's court.

See also ref 2615.
Credits: p. man. Terry Dalzell
p.a. Alison Campbell
sd. rec. Garry Coleman
sd. ass. Alan Brereton
cam. op. Andy Fairgrieve
cam. ass. Grant Cameron
ed. Fiona Macdonald
ass. ed. Ian Adams
lighting cam. Eddie McConnell
cast Jimmy Paterson, Iain Reekie, Douglas Stewart, Steven Morrison, Margaret Beckett, Rab Ashcroft, Andrew Smith, Doreen Cameron, John McGlynn
Shotlist: Shot of boy having a police identity photograph taken, intercut with title credits (1.02) shots of boy in class, reading a comic instead of studying and being kept back by his teacher (3.58) boy and his mother talking the kitchen (6.20) shots of two boys in an arcade playing machines, then in a fish and chip shop trying to steal from a charity box (7.18) gvs boy "skiving" off school and watching two other boys shoplifting (9.19) int. shop as two boys steal sweets and money from the till (9.43) shots of two boys stealing a purse from a woman's handbag at Glasgow's Buchanan Street Bus Station and being caught by a policewoman (12.44) int. police office where boy receives an official police warning (14.24) gvs schoolkids smoking and spraying graffiti on a wall (15.52) int. shots of boy in class and at home intercut with shot of him and friend stealing a cassette radio from a car (18.20) shots of three boys attempting to burgle a house and being caught by the police (22.18) int. shot of three boys in the young offenders' court being charged, ecs overlaid (24.22)