AN EMPIRE MEETS: A Cine Cameo of the Empire Exhibition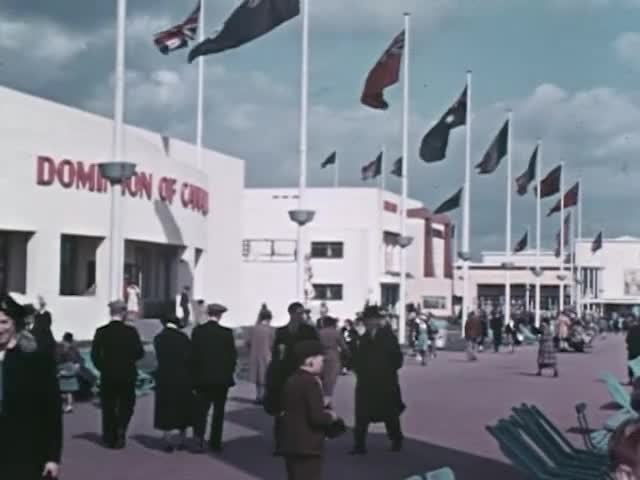 This video is not available to view remotely
Full length video - onsite only
Please read Understanding catalogue records for help interpreting this information and Using footage for more information about accessing this film.
Title: AN EMPIRE MEETS: A Cine Cameo of the Empire Exhibition
Reference number: 2275
Date: 1938
Director: filmed by James Blair
Sound: silent
Original format: 16mm
Colour: col
Fiction: non-fiction
Running time: 8.00 mins
Description: General scenes of the Empire Exhibition in Glasgow's Bellahouston Park, 1938. Includes some sweeping aerial views over the Exhibition site.
Credits: ['JB' in the end credit refers to the film maker James Blair]
Shotlist: title credit Stately buildings bring a new world to Scotland's industrial; capital General views of exhibition arena, Bellahouston Park, Glasgow, 1938. The United Kingdom Pavilion disclosed the country's industrial wealth exts GPO tower (General Post Office); Exteriors of the pavilions Even dull days provided a thrill from the tower elevated shots from exhibition tower; Scotland's pavilions... to show the world the Scottish mind... Engineering was well represented ints exhibition area on engineering (3.00); In lighter vein the amusement park provided its thrills The amusement park, with chair-o-planes, roller coaster rides, (3.42); Ibrox stadium provided many spectacular displays. General views of various demonstrations and displays in the stadium (including Royal Navy, Army and Air Force, trooping the colour by the Seaforth Highlanders, field gun display, display of physical exercise and maze marching, trick ride by the 5th Royal Inniskilling Dragoon Guards, motor cycle display by the Signal Training Centre, Royal Signals) Evening shadows brings its rainbow hues The amusement park by night. End credit logo 'JB' (8.00)