EDINBURGH'S HOUSING CONDITIONS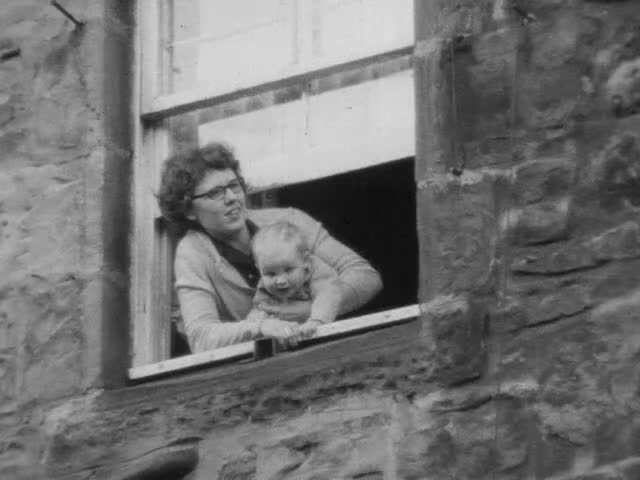 This video is not available to view remotely
Video 1

(currently displayed video)

Full length video - full length available onsite

Film shows children playing amidst old housing in Leith. Voiceover is a brief vox pop from a resident of Leith, and excerpt from a song by Adam McNaughton about the demolition of slums and relocation of city dwellers. (clip)
Please read Understanding catalogue records for help interpreting this information and Using footage for more information about accessing this film.
Title: EDINBURGH'S HOUSING CONDITIONS
Reference number: 1910
Date: 1969c
Production company: Dolphin Films Production
Sound: sound
Original format: 16mm
Colour: bw
Fiction: non-fiction
Running time: 9.15 mins
Description: A documentary on the poor housing conditions in the tenements and flats in Leith. Tenants speak about the problems they have with the fabric of their buildings, council departments and raising children in those conditions.
Credits: song composed by Adam McNaughton
Shotlist: Credits (0.11); General views of Edinburgh - castle, New Town, Princes Street, etc v/o positive vox pops from visitors to the city (1.39); Shots of Leith - children playing beside tenements, slums, closes and back courts, etc. Shots of Ferrier Street area. V/o tenants talking about conditions (4.35); Interior of tenement flat. Family watching TV. Shots of rooms. V/o woman talking about damp, cramped conditions etc. (5.50); General views back courts and streets (6.20); Shots "new block of flats", Fort House. General views buildings, broken window. ls tower blocks. V/o problems of drains, damp, etc. (7.41); Children running along balcony and playing in the courts. General views of Fort House complex and multi storeys. (9.15)