BY BUS TO THE HILLS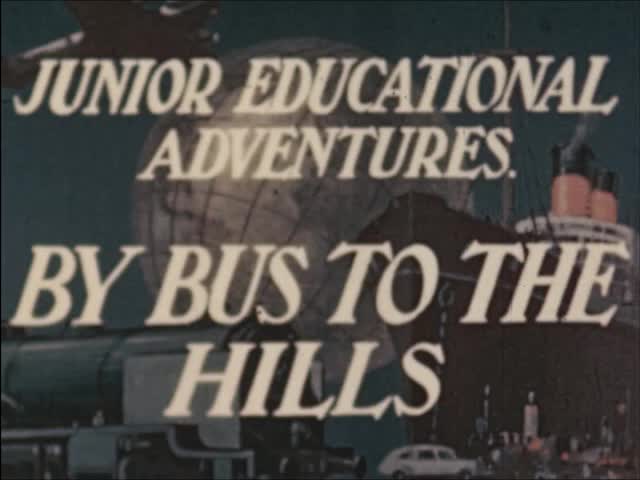 This video is not available to view remotely
Full length video - onsite only
Please read Understanding catalogue records for help interpreting this information and Using footage for more information about accessing this film.
Title: BY BUS TO THE HILLS
Reference number: 1759
Date: 1950c
Production company: Gaumont-British Instructional Limited Production
Sound: silent
Original format: 16mm
Colour: col
Fiction: non-fiction
Running time: 8.48 mins
Description: A group of children join a bus tour party at Edinburgh for an outing to Tweedside. They visit Peebles and Neidpath Castle in the Borders, and finally trace the Tweed to its source on the same hill as the source of the Clyde.
Credits: p. John C. Elder
Shotlist: Credits (.16); Margaret, George and I went for an outing to the hills (.22); General views of people getting into a bus in Edinburgh and of the bus leaving (.45); General shots of people on bus (1.02); Our route took us up the valley of a river (1.06); Shots of bus driving across a bridge (1.18); During a stop we found and enjoyed wild strawberries (1.22); Shots of children eating and enjoying the wild strawberries (1.56); General shots of bus on the orad (2.08); Bus crossing a bridge (2.17); Our next stop was at a small riverside town (2.23); General shots of unidentified town (3.14); George took us boating on the smooth water above the weir (3.19); General views of children boating in a rowing boat (3.35); I found it easy to row back downstream (3.39); General views of boating on river and shot of town from river (4.00); At our next stop we had a picnic beside an ancient castle (4.05); Shot of bus leaving town (4.11); General shots of castle, probably Neidpath, and of people eating (4.30); General shots of river and castle. Children walking by a river (5.18); We went on upstream (5.21); General shots of countryside and river (5.58); At a backwater we watched swans and cygnets (6.02); General shots of swans and cygnets (7.08); As we went higher into the hills the river was much smaller. (7.14); General views of the countryside and river (7.43); Bus stops and children walk to the source of the river (8.11); This marshy hollow is the beginning of the large river we had seen in the valley (8.18); General views of children examining the source (8.27); The bus took us back to town (8.30); General views of children walking away from the source of the river (8.32); End credits (8.48).