TOPICAL BUDGET: KELVIN HALL EVENTS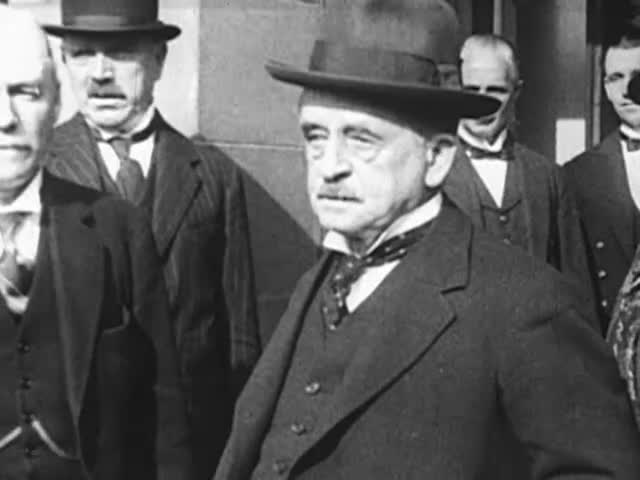 This video is not available to view remotely
Full length video - onsite only
Please read Understanding catalogue records for help interpreting this information and Using footage for more information about accessing this film.
Title: TOPICAL BUDGET: KELVIN HALL EVENTS
Reference number: 1734
Date: 1929*
Production company: Topical Budget News
Sound: silent
Original format: 35mm
Colour: bw
Fiction: non-fiction
Running time: 3.00 mins
Description: A compilation of events at the Kelvin Hall, Glasgow, including Sir James Barrie opening the Housing and Health Exhibition and the comedian Tommy Lorne entering Bostock and Wombwell's lion's den.

SIR JAMES BARRIE IN GLASGOW - Topcal Budget issue number 944-1, release date 26.9.1929 (Scottish edition only). A MODERN DANIEL - issue number 955-1, release date 12.12.1929 (Scottish edition only). A BLAZE OF BEAUTY - issue number 941-1, release date 5.9.1929 (Scottish edition only).
Shotlist: Credits Sir James Barrie in Glasgow. Creator of "Peter Pan" opens Housing and Health Exhibition in Kelvin Hall. Shots of Barrie and colleagues. Crowds inside exhibition. Barrie makes a speech. Shots of crowds and brief glimpse of the guest of honour touring the exhibition (.30); A modern Daniel. Tommy Lorne, famous Scotch comedian, enters Bostock and Wombwell's lion's den at Kelvin Hall. Tommy Lorne enters the cage with the lion keeper, pats the lion and comes out again. He shakes hands with the keeper. Shots of two elephants inside arena, Tommy Lorne astride one (1.00); A blaze of beauty. Lady Inverclyde opens great Flower Show at the Kelvin Hall, Glasgow. Party poses for camera, including Sir John Reid [NB Locomotive Company]. Shots of the crowds seated inside. Lady Inverclyde tours the show (1.57); Incomplete.