CLYDEBANK, ARMISTICE DAY AND SINGER GALA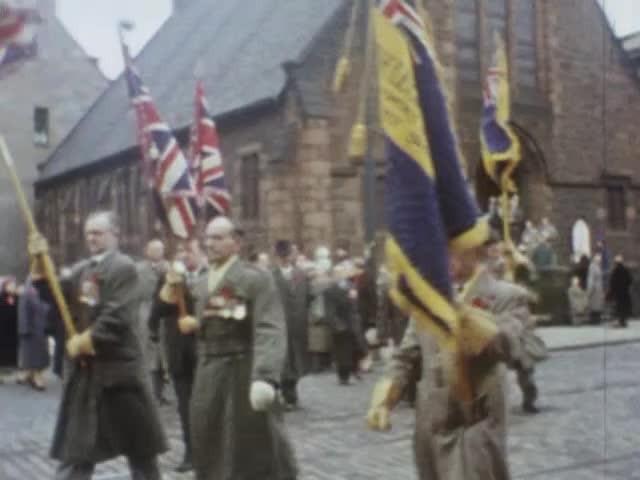 This video is not available to view remotely
Full length video - onsite only
Please read Understanding catalogue records for help interpreting this information and Using footage for more information about accessing this film.
Title: CLYDEBANK, ARMISTICE DAY AND SINGER GALA
Reference number: 1588
Date: 1959c
Sound: silent
Original format: std. 8mm
Colour: col
Fiction: non-fiction
Running time: 15.51 mins
Description: Visuals of Clydebank, parks, new housing and the industrial skyline. Also includes coverage of Armistice Day celebrations and Singer Sports day celebrations.

See also website at http://www.theclydebankstory.com/ for general information about Clydebank [last accessed 3/4/2008].
Shotlist: [no title or credits] [very underexposed] shot of 'Electricity' sign (0.00) [exposure normal] shot of floral clock with 'Singer 1959' arranged in flowers. gvs park, with floral displays, model boats, decorated bandstands etc (0.34) Visuals of Clydebank, including church exts, new housing (some still under construction by SSHA), industrial skyline, some derelict buildings, row upon row of houses as seen from elevated position overlooking the town (6.58) shots from train of scenery along the Clyde estuary (8.42) Brief shots of cruises on the Forth and Clyde Canal at Bowling. Shots of water tower and reservoir (?) (10.29) Armistice Day parade (?) Shots of Provost, civic and military officials as they lay wreaths at war memorial, Town Hall, Clydebank (12.27) views over graveyard, houses and gardens (12.48) Short sequence of the procession of the Singer Gala Queen during gala day at Singer sports field (15.51)