DOMINION MONARCH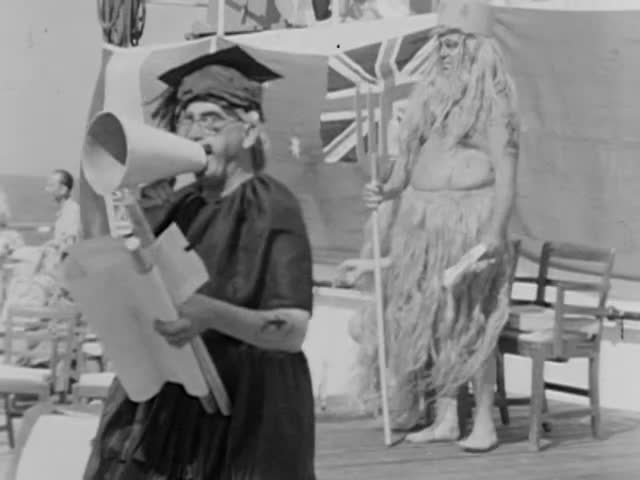 This video is not available to view remotely
Full length video - onsite only
Please read Understanding catalogue records for help interpreting this information and Using footage for more information about accessing this film.
Title: DOMINION MONARCH
Reference number: 0161
Date: 1948c
Director: filmed by Mr. Clark
Sound: silent
Original format: 16mm
Colour: bwcol
Fiction: non-fiction
Running time: 14.03 mins
Description: Life on an ocean-going liner including shots of the wireless office and the wheelhouse, the crew and passengers, including the 'Crossing the Line' ceremony. This is an amateur film made by Mr Clark, Radio Officer on the vessel, most probably shot as a home movie.
Shotlist: No credits. [COL] Life on the ocean. [BW] Shots of the passenger liner "Dominion Monarch" and embarkation (0.54) Always in touch with the outside world. c/u brass plate "Wireless Office"; ints same, single man working at a desk; c/u guages; c/u hand operating telegraph, beside paper headed: "Marconigram". (1.33) World News is Received Daily by Radio c/u longhand writing; Then printed in the Purser's Office for passenger use c/u pages headed with Jacquard-like punched patterns are examined for error; the page is mounted on the press, with blanks; ink is squeezed onto the ink roller; hand-cranking the printer; man reads the "Radio News" (2.36) relaxing on deck; men playing a net game. (2.51) ints. kitchen; c/u mechanical mixer (3.22) Shots of the wheelhouse (3.30) the vessel's pet monkey (4.32) This machine records the depth of the water shots of echo sounder and pen trace machine. Reference to the Charts Gives the Ship's Position c/u man using parallel rule and dividers on a chart. (5.21) [COL] 'Shooting' the sun at noon ms three men taking a reading from sextant, one wearing a pith helmet. Eight Bells ms man ringing bell; man writing into a ledger. The Captain's Hobby man in uniform holding up a rug, with "lightning" design; c/u rug (5.59) [BW] At the equator King Neptune and his court come on board. [partly oof] Ritual of Neptune and court on "crossing the line"; skit involving passengers suffering a mock operation, then being thrown into the pool, where "sea monsters" duck them under the surface again (10.41) Lifeboat drill & Fire drill is practised weekly Roll call roll call being taken, row of North African (?) crew; shots of lifeboat and fire drill practice (11.27) Sometimes at Sea as on Land burial at sea (12.03) Off duty. practising golf; c/u stripping sugar cane with teeth; ms visitors and friends on deck eating sugar cane; c/u woman stripping the cane. Darts game. (14.03)