STEAM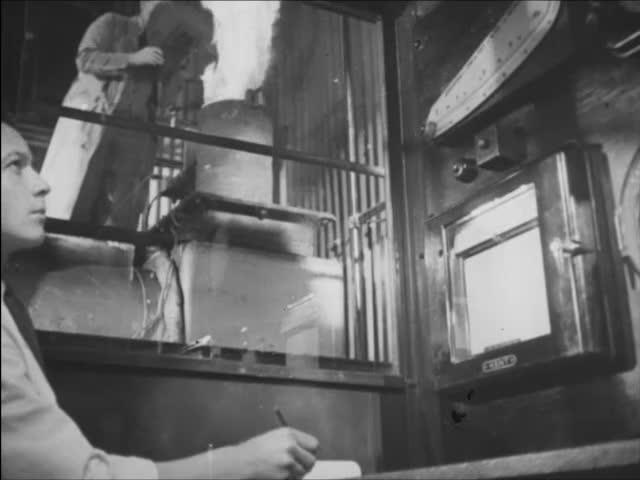 This video is not available to view remotely
Full length video - onsite only
Please read Understanding catalogue records for help interpreting this information and Using footage for more information about accessing this film.
Title: STEAM
Reference number: 1531
Date: 1955*
Director: d. James E. Rogers
Sponsor: Babcock and Wilcox (Steam) Ltd
Production company: James E. Rogers Production in assoc. with Film Producers Guild
Sound: sound
Original format: 16mm
Colour: bw
Fiction: non-fiction
Running time: 41.26 mins
Description: A history and development of Babcock and Wilcox boilers from their early 19th design to the Ceres type boiler. A new boiler is shown being constructed and installed at a power station.

This film was shot in the Renfrew works at a time when they had both iron and steel foundries. Used as a training film and for promotional purposes.

Additional information file held at National Library of Scotland Moving Image Archive.
Credits: sc. Arline Rogers
nar. Norman Shelley, John Laurie
original m. Clifton Parker
animat. T. R. Thumwood
ed. C. Beaumont
sd. engineer Edgar Law
Shotlist: Credits (.41); General views interior power station (1.10); Shots of model of Hero's engine in operation. Diagrams of Stephen Wilcox's steam boiler of the nineteenth century and early boiler designs leading to modern boiler system. Diagram of operation of various boilers (5.00); Shots of research labs during performing tests (9.26); Diagram design of Ceres type boiler (13.03); Montage sequence. Photos of various power stations (13.40); General views of landscape around Dunbarton (14.11); Exterior of Babcock and Wilcox works at Dumbarton (14.22); General views interior of components (14.51); Shots inside foundry of the process of drum construction (for boilers) with shots of fusion welding and its allied functions (18.09); Shots of manufacture of dished ends of boiler drums and their welding onto drums. General views of shop floor and furnaces (21.40); Shots inside tube mills as manufacturing process is explained. Shots of assembly of finished tubes to form boiler sections (32.20); Finished components for boilers loaded and shipped by rail (33.11); Shots of construction site of a power station during erection and installation of the Babcock and Wilcox boiler units (38.40); System is operated, switches are engaged and steam is produced (40.09); Shots of control room of power station (40.55); Exterior of several power stations (41.21); The End (41.26)