EVER OPEN DOOR, the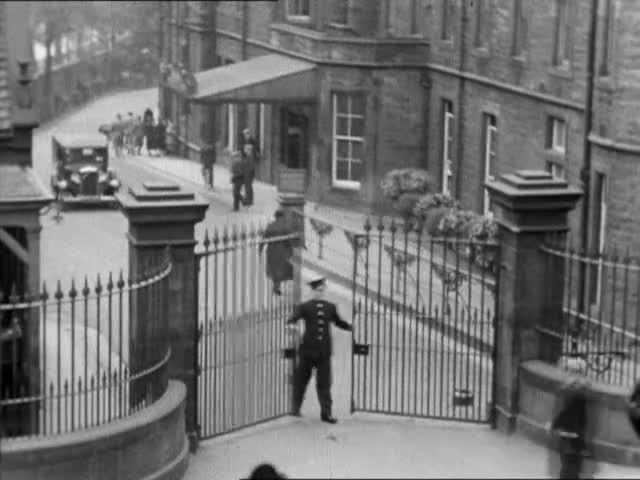 This video is not available to view remotely
Full length video - onsite only
Please read Understanding catalogue records for help interpreting this information and Using footage for more information about accessing this film.
Title: EVER OPEN DOOR, the
Reference number: 1450
Date: 1938
Director: d. John N. Lauder
Sponsor: Royal Infirmary, Edinburgh
Sound: silent
Original format: 16mm
Colour: bw
Fiction: non-fiction
Running time: 21.25 mins
Description: Various departments of the Royal Infirmary, Edinburgh are illustrated and the film extols the hospitals motto which is "The Ever Open Door".

John Lauder, who directed this film, was first President of the Edinburgh Cine Society.

A folder describing the entire collection was deposited January 2002. Ref 16/66, containing the following information on the content of this title:
Part 1: Historical Introduction, Out-Patient Department, Radiology Department, Operation Theatre, Eye Department, Skin Department.
Part 2: Bacteriology Department, Electrocardiology, Dispensary, Physiotherapy Dept., Medical Electricity, Summary.
Credits: assisted by William Cochrane
advisory Lt Col A D Stewart
medical superintendent Henry Maw
Secretary and Treasurer and staff of various departments.
lighting and technical T. W. Turnbull
Master of Works and Royal Infirmary electricians.
Shotlist: Credits (.33); Shots of Robertson's Close, Edinburgh. Site of the first hospital (.55); Infirmary Street, Edinburgh. General views. Exterior of former hospital buildings (1.22); Exterior of the Royal Infirmary, Forrest Road. General view of buildings (1.55); So, from such small beginnings, the great Institution has evolved. The ever increasing demands of the sick, linked with the rapid advance of Surgery and Medicine, have necessitated extension and introduction of Specialised Departments. Massage Bacteriology X-Ray etc. (2.12); Ambulance outside Surgical Out-Patients Department. Patients arrive (2.33); Shots of the waiting room, nurse attending patients' various ailments. Shots of patient in surgery (4.06); Ambulance leaves (4.16); X-ray Department. General views of x-rays and equipment X-rays are also used in the treatment of disease. Deep Therapy. gvs same (6.05); Operating Theatre. General views of preparation for surgery. Shots of an operation (7.42); Eye Department. General views of treatment of patient (8.33); Part of the new extension. The recently opened Skin Pavilion. General views of exterior (8.52); Skin Department. General views of doctors examining patients. Shot inside ward (9.22); Preparing dressings. Orderly prepares dressings by spreading a paste onto a cloth. Nurse applies same (9.59); Ultra Violet Rays are extensively used; gvs same ...and for local treatment, The Finsen Light (10.46); Activity in the wards. General views of nurses (11.22); Bacteriology. General views of laboratory tests (13.01); Electro-cardiography. A technician takes EC machine from laboratory to ward. Sets it up by patient's bed to take readings. General views of recording process; c/u trace on EC screen; man inspecting neg images of echocardiogram (15.07); Dispensary. Shots of pharmacist at work in dispensary, making pills, etc. Prescriptions are packed into wicker baskets and delivered to wards. (17.34); Medical Electricity. General views of treatment by various types of electrical apparatus (18.55); Remedial exercises. General views of patients doing exercises of various kinds; walking stretching and dexterity etc. (20.02); And so the work goes on. General views of doctor with patient, nurses in ward, surgeons at work, x-rays (20.53); Extension steadily progresses to maintain THE EVER OPEN DOOR (20.57); Exterior of the new extension building (21.20); The End (21.25)