GARROWHILL GARDEN ESTATE NEAR BAILLIESTON, GLASGOW / PROGRESS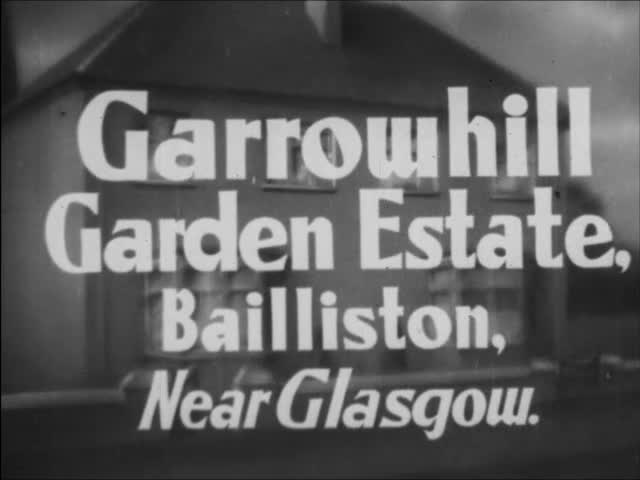 This video is not available to view remotely
Full length video - onsite only
Please read Understanding catalogue records for help interpreting this information and Using footage for more information about accessing this film.
Title: GARROWHILL GARDEN ESTATE NEAR BAILLIESTON, GLASGOW / PROGRESS
Reference number: 13766
Date: 1936c
Sponsor: Henry Boot (Garden Estates) Ltd.
Sound: silent
Original format: 16mm
Colour: bw
Fiction: non-fiction
Running time: 16.34 mins
Description: Two promotional films made by Henry Boot Ltd. to advertise the sale of houses on their Garrowhill Garden Estate near Baillieston, Glasgow.

Note - the spelling of Baillieston in the title is incorrect as it reads 'Balliston' on screen Title has been corrected by cataloguer to enable better discovery.
Credits: p. Lew Lake
Shotlist: GARROWHILL GARDEN ESTATE NEAR BAILLISTON, GLASGOW
Henry Boot (Garden Estates) Ltd. present - A few facts about their - title - gvs farmland - new houses - house construction - ints. fittings and furnishings - signs with house prices - house exts - estate office and staff - THE END (218 ft)

PROGRESS
Lew Lake presents - title - featuring Garrowhill Garden Estate, Baillieston near Glasgow - gvs exts, streets - horseriders - countryside - tennis courts - estate office - British Linen Bank and Shettleston Co-op, pub - schoolchildren playing in field - city centre streets - children in house and garden - tenement stairs - exts estate - prices - house ints. - trams - steam train entering Garrowhill Station - THE END (234 ft)