BROXBURN GALA DAY AND CROWNING OF QUEEN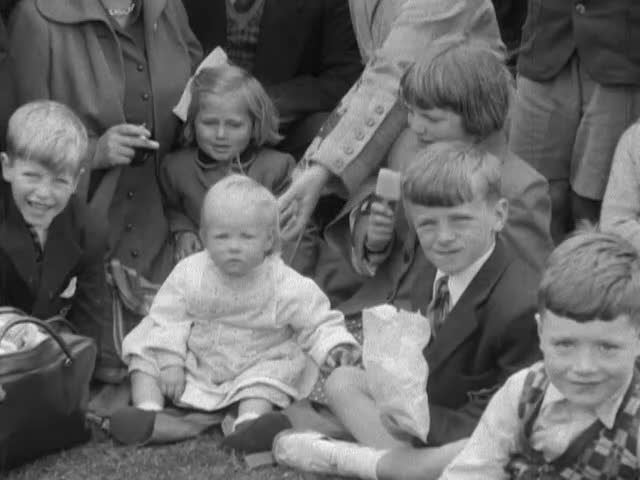 This video is not available to view remotely
Full length video - onsite only
Please read Understanding catalogue records for help interpreting this information and Using footage for more information about accessing this film.
Title: BROXBURN GALA DAY AND CROWNING OF QUEEN
Reference number: 1291
Date: [1954, June 26]
Director: filmed by Mr. Miller for the Regal Cinema, Broxburn
Sound: silent
Original format: 35mm
Colour: bw
Fiction: non-fiction
Running time: 13.11 mins
Description: Broxburn Gala Day and crowning of the Queen, 26th June 1954. Includes footage of the procession, children's fancy dress competition and the Gala Queen crowning ceremony.
Shotlist: [Please note this films runs actual speed c. 20fps. It has been shotlisted at 24fps]

ROLL A
title and credit Crowning ceremony by Mrs Major Walker (0.11); Children's fancy dress competition (0.41); Shots of street decorated with bunting and floral archway (1.01); House with floral decorations, "Queen of the Fairies", group of people stand in garden (Broxburn Gala Queen's family?) (1.28); Decorated street of terraced houses, possibly the miners' houses (1.39); Coronation ceremony of Gala Queen. General views of crowds of children waving flags (2.29); "Queen" and retinue arrive. Coronation ceremony (8.26); Gala Queen leaves with her retinue (8.47)

ROLL B
No credits. Shots in street of one-man band. A crowd gathers to watch (.20); Brass band leads Gala Queen procession, followed by children (2.18); Shots of spectators in park, including young children and toddlers (3.33); Old woman sitting on doorstep of house, close-up as man comes into frame, bends down to talk to woman (4.00); Shot of the exterior of the Regal Cinema, Broxburn, from top of facade down to entrance doorway (4.24)