FERRY FAIR 1955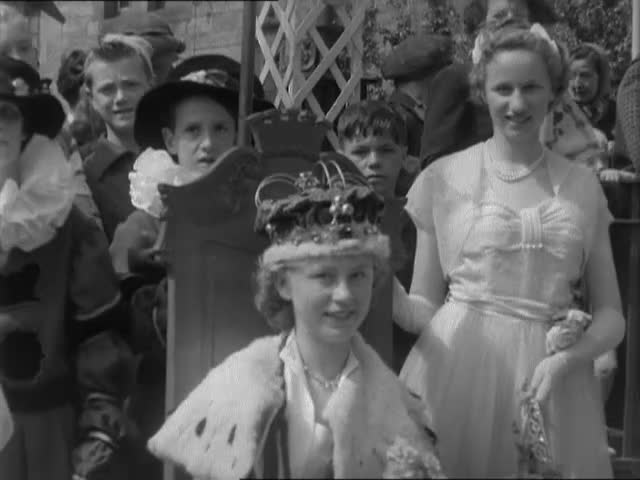 This video is not available to view remotely
Full length video - onsite only
Please read Understanding catalogue records for help interpreting this information and Using footage for more information about accessing this film.
Title: FERRY FAIR 1955
Reference number: 1295
Date: 1955, July 2
Director: filmed by Mr. Miller for the Regal Cinema, Broxburn
Sound: silent
Original format: 35mm
Colour: bw
Fiction: non-fiction
Running time: 8.35 mins
Description: Crowning of the Fair Queen, and the parade through South Queensferry.

See also ref. 1297
Shotlist: Credits. Visit of HM Queen Elizabeth and HRH Duke of Edinburgh to the Royal Burgh of Queensferry, Saturday 2 July 1955 (0.12); 1955 Ferry Fair (0.28); Broxburn High School Sports, Saturday 2 July 1955 (0.41); HM Queen Elizabeth, HRH Duke of Edinburgh passing through Broxburn on Saturday 2 July 1955 (0.55); Pan, long shot across Forth Railway bridge (1.22); Exts. Arrival and crowning of the Fair Queen, Queensferry [shot over crowds] (3.11); Shots of civic officials; children in fancy dress (3.47); General views, brass band, close-up of spectators, participants, Fair Queen and retinue (5.21) pan over crowds (5.43); More shots of crowning of the Fair Queen (6.10); pan over Queen and platform party, crowds in b/ground (6.35) General views of crowds standing on tenement steps and along railings; crowds at street level, standing behind a rope (7.16); Shots of prize giving; adults then children who are wearing fancy dress (8.57); Shots of crowds in street, [St. Elia Cafe visible in b/ground]; (9.14) Fair Queen and children's fancy dress procession walk through crowded street decorated with bunting; school children in procession (10.39); General views of the procession of children, adults watching (11.25).