DEAR GREEN PLACE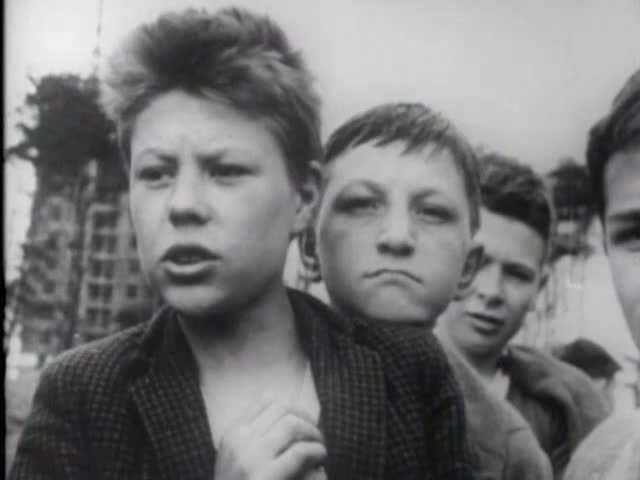 This video is not available to view remotely
Full length video - onsite only
Please read Understanding catalogue records for help interpreting this information and Using footage for more information about accessing this film.
Title: DEAR GREEN PLACE
Reference number: 1275
Date: 1968
Director: p. & d. Oscar Marzaroli and Michael Pavett
Production company: [ Ogam Films]
Sound: sound
Original format: 16mm
Colour: bw
Fiction: non-fiction
Running time: 14.33 mins
Description: Through a series of stills taken over a ten year period, a Glasgow photographer traces the rebirth of his city, through its social and structural changes.
Credits: stills ph. Oscar Marzaroli
sc. and ed. Michael Pavett
m. d. and m. p. Ewan MacColl, Peggy Seeger
comm. w. Alasdair Gray
comm.s. Henry Stamper
"Dirty Old Town" Ewan MacColl "You Like the Sun" Andrew Lothian, Maurice Frankl
m. rec. De Lane Lea
loc
Shotlist: Credits. Various shots of stills of Glasgow: rooftop shot of the city, River Kelvin, Forth and Clyde Canal, the Necropolis, various rooftop shots, River Clyde taken from the south looking west, tenements in the Gorbals, back courts, various shots of children in the streets. Various shots at Glasgow Green carnival, shots of children on the streets, shots of boys playing football. Football at Hampden Park, an Orange Walk, various shots of working men and men at work. Various shots of Glasgow parks and graveyards. Suspension bridge. Back courts, buildings being demolished. Skyscrapers under construction. Back courts and street scenes. Building during construction. Various shots of children (14.35)\ [All shots taken from stills].