CAMERA MAKES WHOOPEE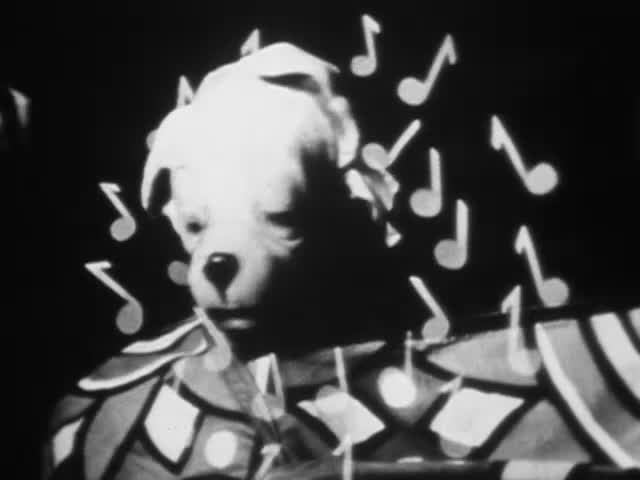 This video is not available to view remotely
Full length video - onsite only
Please read Understanding catalogue records for help interpreting this information and Using footage for more information about accessing this film.
Title: CAMERA MAKES WHOOPEE
Reference number: 1098
Date: 1936
Director: filmed by Wm. Norman McLaren, William J. MacLean, Violet Anderson
Production company: [ Glasgow School of Art Kinecraft Society, GSAKS]
Sound: mute
Original format: 16mm
Colour: bw
Fiction: non-fiction
Running time: 24.37 mins
Description: The Annual Fancy Dress Ball at Glasgow School of Art: "Something New Under the Sun". Includes two ballets, "Hungarian" and "Machine Age" and animated sequences.

One of a number of films made by members of the Glasgow School of Art Kinecraft Society (GSAKS).

See article by Norman McLaren in Photographic Journal, February 1937. Reprinted in FIAF Journal no. 53, November 1996.

Entered for the 1936 Scottish Amateur Film Festival.
Credits: At the Art School Carnival Ball
A symphony on the Cine Kodak Special in two Movements:
1. Preparation for the ball 2. The ball
The producers wish to thank: J Glasgow, and G Guthrie, for the loan of cameras. Dan Ferguson and his New Collegions for special musical effects. All who helped, especially Glasgow School of Art for facilities for working.
Shotlist: [shotlist retimed from speed corrected tape, manual control track]

title and credits (1.45) Shots compasses on drawing board, timber, saws, fabric, scissors, wire, paint and brushes; hands superimposed with measuring tapes (3.07) c/u hand writing calculations for a "platform"; c/u using compass, set square and rule (3.24) montage of tools used for construction of decorations (4.58) c/u calendar: "December 1st"; preparation, hanging decorations with tacks intercut with accidents, tripping over buckets, etc. and c/u shots of calendar as days go by until 25th (6.41) shots of posters for "Annual Fancy Dress Ball, 21st Dec 1934, 8pm to 3 am, 'Something New Under the Sun'" each in a different style (7.07) c/u package, animated sequence of instruments unpacking themselves; montage of musicians playing (9.12) dancers in fancy dress with imposed patterns and animation (10.35) Hungarian Ballet fantasy sequence, 'Hungarian' dance; applause (12.19) c/u sections of band playing intercut with card musical notes and dancing couples (13.58) shots of buffet; food being "eaten" intercut with c/u masks (15.00) shots down length of female dancer, shots of costumes (15.31) dancers with animated notes superimposed (15.58) Machine Age Ballet gvs same; c/u applause (17.13) c/u band members; dancers appear to dance in a desert landscape (18.40) c/u buffet, soda, glasses; drinking; animated sequence with food and drink (19.28) blowing up a balloon (19.57) c/u band, dancers; c/u applause; dancing (23.27) student falls asleep; animation of instruments 'packing up' (24.14) animation: cine camera goes to bed (24.37)