CROP / POULTRY HUSBANDRY MISCELLANY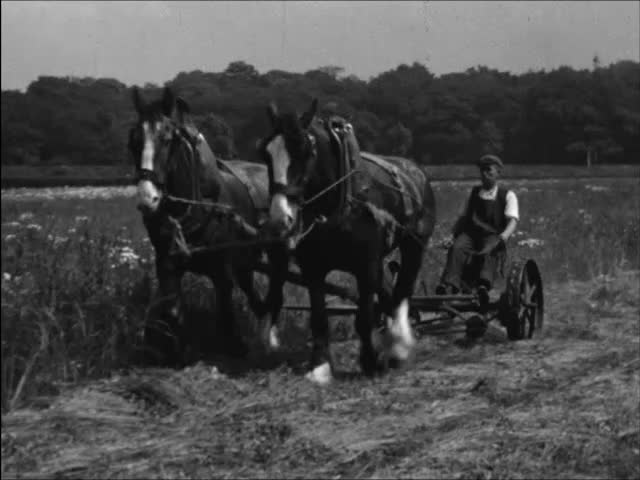 This video is not available to view remotely
Full length video - onsite only
Please read Understanding catalogue records for help interpreting this information and Using footage for more information about accessing this film.
Title: CROP / POULTRY HUSBANDRY MISCELLANY
Reference number: 10902
Date: 1935 - 1939
Sound: silent
Original format: 16mm
Colour: bwcol
Fiction: non-fiction
Running time: 17.11 mins
Description: Compilation of various agricultural activities including poultry farming, cutting hay and fertilising fields.
Shotlist: Fertilising field. Gvs chicken coops, chickens flocking in field, henhouse. C/u chicken in battery, c/u egg on wire shelf. Hay gathered onto cart. Women plant seedlings; pair of men plant seedlings. Female work party picking pea pods? man bagging in f/ground. Harvester cuts and ties sheaves; labourers construct stacks. C/u sheep. Horse drawn roller and harrowing. Gvs sowing machine, c/u discs & grain being dispensed; man demonstrates engaging and disengaging discs. Cutting a hay? field by scythe, gathering onto cart. Spreading liquid fertiliser? from horse-drawn cart; c/u engine. Fertilising? Harrowing. Man uses long arm attached to drill to space drills out. Women spread dung. Cattle feeding indoors. [Time lapse] chick hatches; c/u chicks. Collecting stones. Mowing. Gathering hay/ building stacks. [colour] Moving stack using tractor. [bw] Moving stack using conveyor. Hand cutting sheaves, making band to tie the sheaf. Mixing water into feed? Moving chicken coop; feeding chickens; c/u water tin and feeder; older coop on wheels. Barrel mounted on cart. Woman feeds eggs into grader? Another woman places eggs in trays, weighs each, recording results in ledger; c/u chicks, heat lamp and switch?