GLASGOW, NO MEAN CITY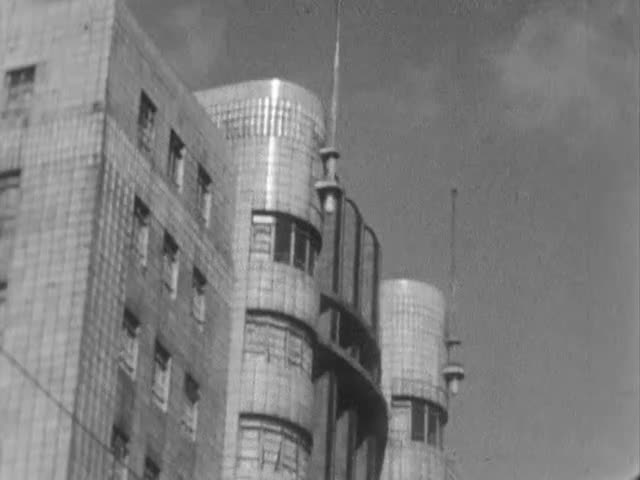 This video is not available to view remotely
Video 1

(currently displayed video)

Full length video - full length available onsite

Amusements at Glasgow Green fair, including helter skelter and Wilmot's horses. (clip)
Please read Understanding catalogue records for help interpreting this information and Using footage for more information about accessing this film.
Title: GLASGOW, NO MEAN CITY
Reference number: 1049
Date: 1951
Director: [filmed by William S. Manson]
Sound: silent
Original format: std. 8mm
Colour: bw
Fiction: non-fiction
Running time: 54.53 mins
Description: Scenes of Glasgow including its streets, with trams and buses, its shops, buildings, museums and parks, its shipyards, railway stations, theatres and cinemas.
Shotlist: REEL I

No credits. Shots of classroom at Kennyhill Special School as teacher explains to pupils the story of Glasgow's coat of arms. City of Glasgow Pipe Band at Kennyhill School sports day. Ex-Rangers football player presents prizes to children with disabilities. The approach from Edinburgh and the north. Hogganfield Loch. Trams passing the Rex cinema in Riddrie. Paddle boats in pond. General views of park. Streetscenes. Traffic at Townhead. Exterior of Carlton cinema. Trolley buses and traffic at Cathedral Square. Long shots of the Royal Infirmary. Shots of the exterior of Provand's Lordship, College Goods Station. General views of High Street and down to the Tron with buses and trolley buses. Trams and general traffic in Trongate. Shots of Gallowgate. Exterior of "Saracen's Head" public house, long shots of street. Barrowland. General views of crowds at open air "barras" (before the dancehall was built) listening to vendors. Traffic at Bridgeton Cross. Shots of Glasgow Green, wash house and public baths. Exterior of People's Palace, Nelson's column. General views of amusements at Glasgow Green fair, helter skelter, Wilmot's horses, etc. Shots across the river to the Boat House and shots of the University Boat Race on the river. Shots of the sailing vessel, "Carrick", moored at riverside. Shots up to Broomielaw with cargo vessels and crowded paddle steamer.

REEL II

No credits. General views of St Enoch Square from hotel. Exterior of St Enoch underground station. General views of shops in Argyle Street, traffic policeman at corner of Glassford Street and Argyle Street. Exterior of Lewis's and general views up Union Street, and Hope Street, Central Station entrance and Grosvenor Restaurant. Road works (tarring over the cobbles) and shots up Buchanan Street. General views of George Square and entrance to Queen Street station. The construction of steel framed building, possibly Naffi building. General views Sauchiehall Street, exterior of McLellan Galleries and Baird Hall (then the Beresford Hotel?). Shots of Charing Cross. Shots outside Kelvingrove Museum as buses and trams pass. Several shots inside. General views of University from Kelvingrove Park and shots of park. Crowds pack bandstand. Roller rink in Kelvingrove Park. Exterior Kelvin Hall and shots along Dumbarton Road to Partick. Victoria Park, general views of pond, gardens and fossil grove. St George's Cross underground station, shots of platform. Shots up Maryhill Road and shots of exterior Empress Theatre (now Metropole). Great Western Road at Byres Road. Botanic Gardens entrance and railway station. General views of Botanic Gardens and greenhouses. Shots westwards along Great Western Road. General views of boating pond and across to houses in the distance. Shots of trams and general traffic at Anniesland Cross. Knightswood Boulevard with pre-fab houses and general views. Forth and Clyde Canal. General views locks at Maryhill and several shots canal banks. Across the Clyde. Renfrew vehicular ferry crosses river. Renfrew Airport. General views of airport as plane takes off.

REEL III

No credits. General views Hillington Industrial Estate. Govan. Shots of Govan Cross, children playing in Elder Park, exterior of library (possibly the Elder Library), Fairfield's yard in background as shipyard workers sail model yachts on boating pond. Tug goes up river. Whiteinch vehicular ferry. Construction of vessel by ferry terminal and launch of "Alagdes". Long shots vessels in river including steamer "King Edward". Passenger ferry at Finnieston. General views Paisley Road Toll. Exterior Smith & McLean's work. General views streets, bowling green and Bellahouston Park. Shots during construction of Moss Heights housing development. Paisley Road West. Several shots of newly constructed housing at Househillwood and Pollok. Shots of rubbish by canal. General views Shawlands and Pollokshaws. Trams in streets and general views buildings. Exterior of the only round Corporation house at Pollokshaws Road and Barrhead Road. Shots of monument. General views of Rouken Glen Park. Returning via Giffnock and Cathcart. General views of houses and streets including the Old Bridge at Cathcart and King's Park. General views exterior Hampden Stadium, shots of match in play ("Festival Football") [commentary box had been burnt]. Exterior Victoria Infirmary, Mary Queen of Scots monument at Battlefield and shots of Langside. General views Queen's Park and looking out of gates up Victoria Road. General views traffic, shops, etc. Exterior Plaza at Eglinton Toll. Jamaica Bridge, the sailing vessel "Carrick" at moorings. Traffic going under Hielandman's Umbrella. Central Station concourse. Steam locomotive "Royal Scot" at platform (No. 46230). Station master in top hat signals driver to pull out. Close-up of the wheels (30.00)