KIRKCALDY HOSPITAL PAGEANT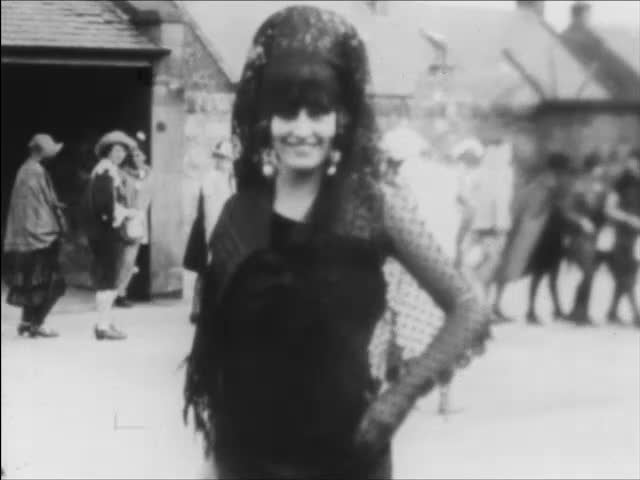 This video is not available to view remotely
Full length video - onsite only
Please read Understanding catalogue records for help interpreting this information and Using footage for more information about accessing this film.
Title: KIRKCALDY HOSPITAL PAGEANT
Reference number: 0813
Date: 1925, July 4
Sponsor: Opera House, Kirkcaldy
Production company: Pathe
Sound: silent
Original format: 35mm
Colour: bw
Fiction: non-fiction
Running time: 11.39 mins
Description: Celebratory scenes at the Kirkcaldy Hosital Pageant held on 4th July 1925, including a fancy dress parade and decorated horse-drawn floats.
Credits: Exclusive to Kirkcaldy Entertainments Limited and the Opera House.
In aid of the Cottage Hospital.

Shotlist: Credits (0.13); Line of children in fancy dress walk past camera (0.19); Boys under 14 - Pathe (0.24); Large group of children in fancy dress (0.35);' Children file across hospital grounds (0.43); The prize-winners. Girls under 14 - Pathe (0.50); Shots of girls in their prize-winning costumes. General shots of others talking part in the pageant (2.04); Shot of crowd-lined main street with brief glimpse of a tramcar (2.29); Shot of procession in street led by a pipe band. Shot of a large banner depicting Kirkcaldy Hospital. Shots of the pageant, featuring decorated horse-drawn floats, people in fancy dress, decorated motor vehicles, a brass band, and a tramcar (3.57); Group of people standing outside the entrance to the Palace [cinema?] (4.00); Spectators (4.14); Shots of children and adults in fancy dress (5.03); The dainty Geisha looked slightly shocked when the first prizewinner was "vamping" our cameraman (5.12); The first prizewinner with the Geisha (5.19) Shots of more prizewinners (5.50); Group in costume give a rousing song beside the Opera House float (6.21); It was very hot, even this gentleman couldn't keep his cool - and he was in his "bear skin - Pathe Gazette (6.31); A dancing "Bear" joins the fun (6.41); Shots of the procession in crowd-lined street with brass band and decorated motor vehicles, including one carrying money from the spectators (8.06); Exterior of the Opera House Cinema (8.09); We were filming the first prize Opera House horse when an "art-ful" policeman (who had a fine day) arrested a suspicious character. Pathe Gazette (8.21); Shot of the policeman struggling with the suspicious character (8.26); Crowd shots (8.34); Mr Casey and his pig [Mr Casey, manager of the Opera House] (8.37); Man holds up a struggling piglet (9.39); ecs (9.45)