GORDONSTOUN SCHOOL GARDEN FETE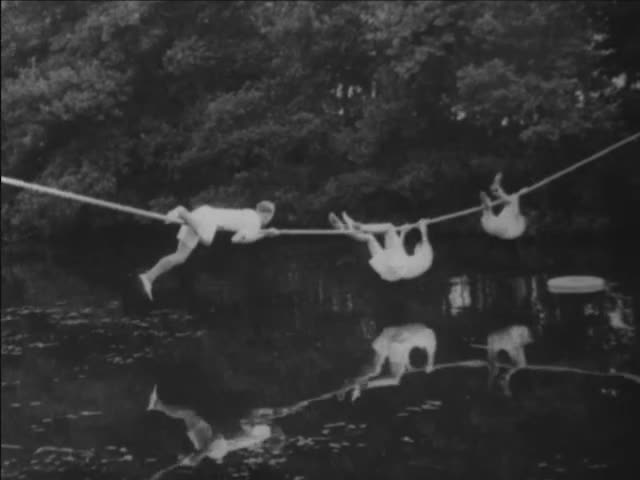 This video is not available to view remotely
Full length video - onsite only
Please read Understanding catalogue records for help interpreting this information and Using footage for more information about accessing this film.
Title: GORDONSTOUN SCHOOL GARDEN FETE
Reference number: 0808
Date: 1949
Director: [filmed by James S. Nairn for the Playhouse, Inverness]
Sponsor: [ Playhouse Cinema, Inverness]
Sound: silent
Original format: 35mm
Colour: bw
Fiction: non-fiction
Running time: 10 mins
Description: Footage of Gordonstoun School garden fete. An obstacle race and various stalls are enjoyed by the boys. HRH Duke of Edinburgh attends the fete.

Titles filmed uncut.
Credits: CAC presentation [Caledonian Associated Cinemas]
Shotlist: No credits. Shots of people milling around garden fete stalls, including "Knock the Goalie Down", "Tip the Topper" and "Hoop-la" (1.55); - Blank - (2.05); CAC presents (2.07); - Blank - (2.10); Tain Carnival and Queen (2.16); - Blank - (2.17); The End (2.24); Blank - (2.26); Gordonstoun School garden fete opened by HRH the Duke of Edinburgh Saturday 23 July 1949 (2.36); - Blank - (2.37); CAC presents (2.52); Shots of programme for Tain's Karnival Kapers (3.12); Group of youngsters look at Garden Fete souvenir programme (3.38); The Duke of Edinburgh arrives and is greeted by assembled officials (3.56); [This sequence badly out of focus] (4.38); General shots of fete and participants (5.08); General shots around the fete (6.36); Unidentified building, possibly Gordonstoun School (6.50); Shots of various fete stalls including "Wheel of Fortune", an auction and an obstacle race (8.01); Shots of the Duke on a "walk-about" (8.14); Start of race for boys (8.21); [This sequence out of focus] (9.56); The Duke meets some of the people in the crowd (10.25)