TAIN CARNIVAL AND ELGIN GALA WEEK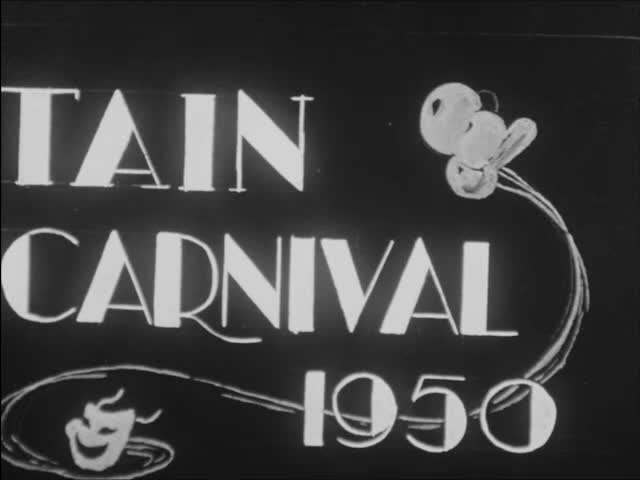 This video is not available to view remotely
Full length video - onsite only
Please read Understanding catalogue records for help interpreting this information and Using footage for more information about accessing this film.
Title: TAIN CARNIVAL AND ELGIN GALA WEEK
Reference number: 0825
Date: 1950
Director: [filmed by James S. Nairn]
Sponsor: Caledonian Associated Cinemas
Sound: silent
Original format: 35mm
Colour: bw
Fiction: non-fiction
Running time: 12.40 mins
Description: Carnival Queens are chosen. Parade of pipe bands and floats.

Film shows Tain Carnival. Titles only for Elgin Gala Week.

Preservation of this film supported by the National Heritage Memorial Fund.
Shotlist: No credits. Shots of children on open-air stage taking part in pageant, watched by large audience (2.24); The Carnival Queen leaves the stage and mounts float (2.46); Pipe band leads the floats procession carrying the Carnival Queen and her attendants (3.09); She alights for tree-planting ceremony (3.40); Two boys engaged in unidentified collection to "support the playing fields" (3.49); A group of people with policeman (3.54); Shots of the pipe band again followed by the floats (4.11); Carnival Queen dismounts from her float in the town centre (5.02); Group of children (5.32); Carnival Queen with her ladies-in-waiting (5.51); - Blank - (5.58); CAC presents (6.07); Tain Carnival 1950 (6.18); CAC presents (6.29); Elgin Gala Week 1950 (6.38); The End (6.50); Two girls looking at a souvenir programme (7.00); Shots of crowds outside a large building bedecked with flags and fronted by an open-air stage (8.03); - Blank (8.10); Shots of the audience (8.14); The Lord Provost? takes his seat in the front row (8.18); Pipe band plays (8.25); Shots of the crowds (8.30); Carnival Queen mounts the stage at the head of a procession (8.59); An unidentified man gives a speech (9.02); The proclamation is read out (9.07); Shots of crowd-lined streets (9.49); The Carnival Queen is crowned on stage (10.24); The Lord Provost gives a speech (10.30); Shots of the audience (10.43); The newly crowned Carnival Queen makes a speech (10.50)