TEXTILES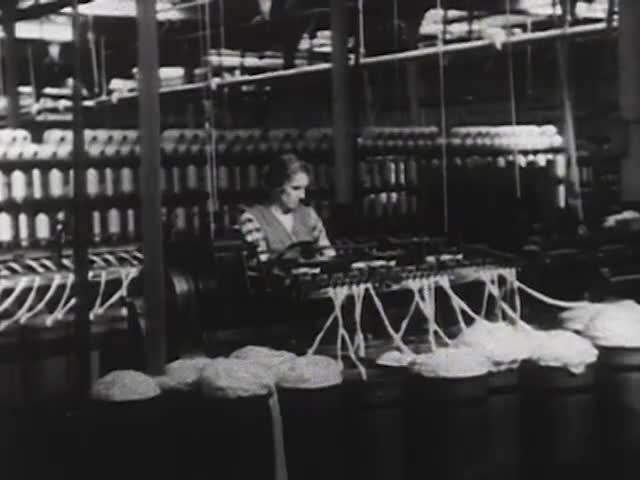 This video is not available to view remotely
Video 1

(currently displayed video)

Full length video - full length available onsite

Warp threads are spun onto bobbins then wound onto a huge drum. The weaving looms are attended by two women. Cloth is hammered in a bucket then rolled onto a huge roller. (clip)
Please read Understanding catalogue records for help interpreting this information and Using footage for more information about accessing this film.
Title: TEXTILES
Reference number: 0662
Date: 1937
Director: d. John C. Elder
Production company: GB Instructional
Sound: silent
Original format: 16mm
Certificate: U
Colour: bw
Fiction: non-fiction
Running time: 11.48 mins
Description: Comprehensive survey of Scottish textile industry, showing relation between centres of various industries, sources of raw materials and driving power for mills. Manufacture of tweed, linen, sailcloth from jute, and cotton and silk thread are covered.

See Teaching notes.

Credits: Made in collaboration with a panel of Scottish teachers
ph. J. H. Blake Dalrymple
Shotlist: Credits (.36) Shot of cloth being woven on hand-operated loom (.55) Factory on banks of stream (1.03) Machinery inside (1.15) Map of Scotland showing main woollen towns: Kilmarnock, Galashiels, Kelso, Selkirk, Hawick, Dumfries and Langholm (1.40) Man in mill sorting wool (1.47) Wool is teased by machine (2.01) Wool is carded (2.26) And spun (2.44) Warp is wound (3.05) Woven by power looms (3.24) Dyed (3.40) Scene in shop where rolls of cloth are on sale (3.49) Map of Scotland showing main linen towns: Dunfermline, Dundee, Arbroath and Montrose (4.04) Woman in mill tends stationary machinery (4.16) Women fold up fabric (4.26) Finished goods are packed (4.35) Map of Scotland showing main jute towns: Dunfermline, Dundee, Arbroath and Montrose. Jute is imported from India (4.41) Bales of raw jute are unloaded from ships in Dundee docks, loaded onto horse and cart and taken to Eagle Jute Mills. Tram passes horse and cart (5.53) Finished materials are loaded back onto ships for export (6.14) Map of Scotland showing main cotton towns: Paisley and Glasgow (6.23) Gvs Paisley (6.40) Scenes inside mills of cotton being put through various processes (8.10) Shot of workers leaving mill (8.25) Map of Scotland showing textile towns - those previously mentioned (8.45) End credits (9.00)