FUTURE OF SCOTLAND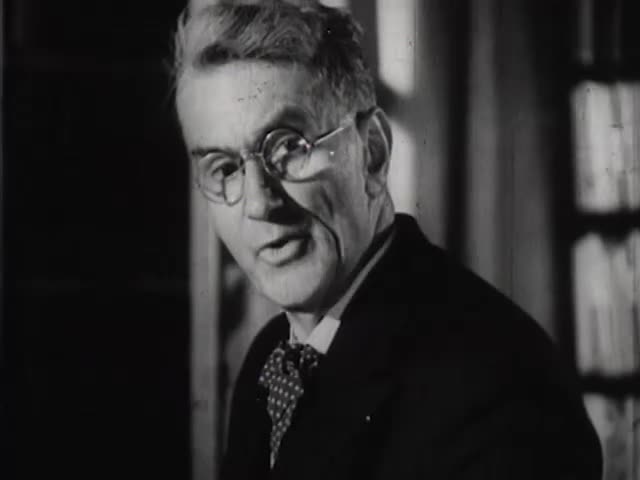 This video is not available to view remotely
Full length video - onsite only
Please read Understanding catalogue records for help interpreting this information and Using footage for more information about accessing this film.
Title: FUTURE OF SCOTLAND
Reference number: 0303
Date: 1948
Sponsor: J. Arthur Rank Organisation
Production company: Sergei Nolbander
Sound: sound
Original format: 35mm
Colour: bw
Fiction: non-fiction
Running time: 21.00 mins
Description: A look at Scotland's industries, education and culture. Tom Johnston, the former Secretary of State, talks about devolution for Scotland.
Credits: Monthly Film Review by J Arthur Rank Organisation
Gaumont Kalee recording
[p. Sergei Nolbander]
[assoc. p. and literary ed. J L Hobson]
Shotlist: Credits (.39) Edinburgh skyline (.54) Scenery and landmarks. Edinburgh monuments, St Giles Cathedral, interior of Holyrood, shots of countryside (1.52) Pan round Edinburgh skyline (2.01) Ceremonial procession from Church Assembly (2.09) Glasgow skyline and shipyards (2.28) Various vessels and yards (2.47) Engineering shop floor, foundry and furnaces (3.08) Mining districts, interiors of jute mills, tweed-making factories in the Borders, shots of rivers, cloth being woven (3.44) Fishing vessels, harbour and catch (4.15) Boy rows out to salmon nets (4.28) Whisky distillery (4.56) Perth livestock auction (5.23) Clydesdale horse and plough, sheep, tattie howking, grain fields (6.03) Engineering factory, quarrying [possibly at Rubislaw, Aberdeen] (6.27) Crofting, harvesting, ruined houses in the Highlands (7.16) Industrial scenes, workers' houses, coal pits, shipyards, all lying idle (7.47) Scots boarding a liner to emigrate (8.05) What then is being done to develop Scotland? Shots of Queenslie industrial estate by Glasgow. Factories under construction, some completed (9.01) Forestry planting (9.24) Slag heaps being levelled, new pit head buildings and new housing for workforce (10.26) New fishing vessels in Hall Russell's yard, fish curing plant. The Torry research station. Mrs Nora Bain and Dr James Shewan. Laboratory experiments in quick freezing (11.32) Countryside and hydro power stations in operation and under construction [possibly including the Tummel aqueduct and Galloway dam] (13.06) Old tenements, back courts, closes and narrow streets. Rooftop view of slums (13.41) But these practical steps do not altogether satisfy the Scots. Street festivities at Hogmanay. Local town gala parade and Highland games (14.38) Old Tron, Edinburgh. Class in school of piping (14.51) Pipe band parade (15.03) Pupils in school, colleges and universities. Shot of quad in St Andrews University (15.31) Interior of lecture hall, students of medicine watching surgery (15.40) Edinburgh University Old Quad (15.43) Marriage ceremony in house (16.02) Edinburgh Festival poetry readings, Sidney Goodsir Smith reading his work. Discussion groups, drama productions. Shots from rear of stage of rehearsal in Citizens Theatre, Glasgow (16.54) Political conference. Mass audience in park, speakers on nationalism. Douglas Young [bearded man wearing hat] and possibly Compton Mackenzie (17.20) Tom Johnston, former Secretary of State for Scotland, in his study talking about devolution for Scotland. He advocates middle course (18.59) St Andrews House, Edinburgh, and skyline (19.26) Meeting of Economic Council in Edinburgh with shots of Arthur Woodburn, Secretary of State for Scotland (19.45) A nationalists' demonstration. Andrew Murray, Lord Provost of Edinburgh, shaking hands with Woodburn at the entrance to the city chambers (19.56) Various shots summarising the content of the film, including industry, education and agriculture, etc (20.35)