ROYAL OCCASIONS IN SCOTLAND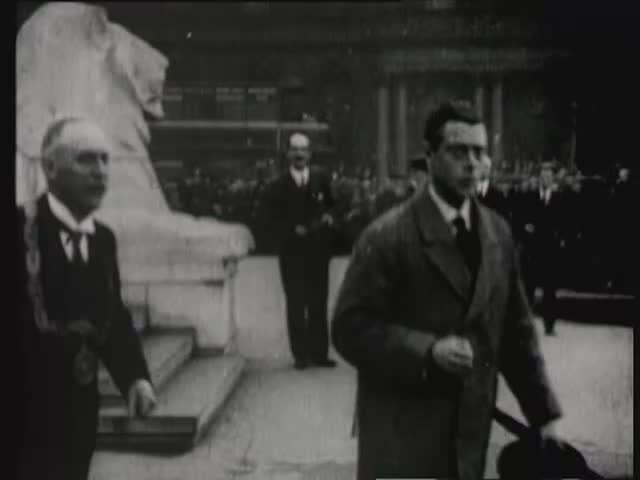 This video is not available to view remotely
The Prince of Wales comes to Glasgow, November 1927, to open the Scottish Motor Show in Kelvin Hall. (clip - onsite only)
Please read Understanding catalogue records for help interpreting this information and Using footage for more information about accessing this film.
Title: ROYAL OCCASIONS IN SCOTLAND
Reference number: 0188
Date: 1897 - 1937
Director: made by Film Society of Glasgow
Sound: silent
Original format: 35mm
Colour: bw
Fiction: non-fiction
Running time: 15.00 mins
Description: A compilation of newsreel footage of royal events including King Edward VII opening the new building at Marischal College, Aberdeen 1906, the Prince of Wales at launching ceremony of a ship at John Brown's yard, Clydebank in 1921 and a visit by the Royal Family to Edinburgh in 1937.
Credits: Made by the Film Society of Glasgow and compiled from early editions of Gaumont Graphic, Pathe-Gazette, Topical Budget, and other newsreels.
Shotlist: Please note Reel 2 only accessible on video format

REEL I (not on video format)
Credits (.26); No films of Queen Victoria in Scotland survive. This photograph shows her at Balmoral in the late 1890s, accompanied by her attendant John Brown. Photograph of Queen Victoria on horseback with John Brown holding the reins (.39): 1906 King Edward VII opens new building at Marischal College. Shots of state coach and procession from the Town House (extract from ABERDEEN 1906) (2.58); July 1911 King George V and Queen Mary visit Edinburgh and lay memorial stone at the Usher Hall. Shots of royals and civic dignitaries outside the building to witness ceremonial laying of stone (3.44); July 1914 King George and Queen Mary visit Glasgow and lay foundation stone of the Municipal Buildings Extension. 2nd caption - Pathe Freres Cinema. Royal Scottish Tour. Glasgow's loyal reception of the King and Queen. Shots of royal party and civic dignitaries as ceremony is performed (4.26); March 1921 Prince of Wales, later Edward VIII, received the freedom of the City of Glasgow and launches a ship at John Brown's yard. 2nd caption - Topical Budget. The Prince at Glasgow. HRH inspects Gordon Highlanders at St. Andrew's Halls where he receives freedom of the city. Shots outside St. Andrew's Halls as Prince of Wales inspects the guard of honour (5.03); Car arrives outside entrance to St. Andrew's Halls, Door A, and Prince of Wales, now in civilian suit, steps out (5.12); Topical Budget. Glasgow Citizens gave him a tremendous welcome. Shots of crowds waving and cheering and Prince of Wales makes his way through them to be driven away in car (5.50); Topical Budget. Prince of Wales on the Clyde launches the liner "Windsor Castle" at Glasgow. Prince of Wales mounts launching platform. Shots of vessel moving down slipway (6.38); Prince of popularity. Puzzle - Find the Prince. Shots of crowds in yard. Prince of Wales is virtually in-distinguishable (6.55); August 1922 Ballater Station. Many scenes such as these have been preserved of the Royal family's arrival at Balmoral. 2nd caption - Pathe Gazette. The King in Scotland. The arrival of His Majesty at Ballater en route for Balmoral. King takes salute and inspects guard of honour outside Ballater railway station (7.27); August 1922 Edinburgh. Princess Mary (later Princess Royal) opens the Royal Scots Club. 2nd caption - Topical Budget. Princess Mary with her Regiment. Shots of the Princess as she inspects guard of honour of Royal Scots and on balcony of club building waving to the crowd (7.55); A wedding gift. She is presented with a wedding gift and then drives off in car (8.07); September 1922 Aberdeen University. An honorary LLD is conferred on Queen Mary. 2nd caption - Topical Budget. Queen's new degree. Queen Mary and university dignitaries emerge from the building. Procession leads them away (8.34); August 1923 At Fort George on the Moray Firth the Prince of Wales unveils the Seaforth memorial and meets soldiers. 2nd caption - Daily Sketch. Topical Budget. Memorial to Seaforths. Prince of Wales, accompanied by military and civilian escorts meets some of the soldiers (8.56); August 1926 Another royal holioday in Aberdeenshire. Shots of Ballater station as royal party leave by car. Brief close up of Duchess of York (later Queen Elizabeth) (9.21); August 1927. King George V visits Kelvin Hall and lays the foundation stone at the George V Bridge. 2nd caption - Pathe Gazette. Royal visit to Glasgow. Their Majesties open new Kelvin Hall and King George V Bridge. Brief shot of exterior of Kelvin Hall (9.41); Royal party walks to podium at end of bridge and then shot of them walking away (10.04); Royal party on foot in George Square escorted by Provost and civic dignitaries. King George V lays wreath at the Cenotaph. Shots of crowds in George Square and buildings in background as the party return to the City Chambers (10.38).

REEL II (on video format)
No credits. November 1927 Prince of Wales comes to Glasgow to open the Scottish Motor Show in Kelvin Hall. 2nd caption - Topical Budget. Scottish. Prince of Wales in Glasgow. Shots of crowds outside and brief shot inside the hall as Prince of Wales inspects guard of honour of veterans (.31); Shots of George Square as Prince of Wales lays wreath on the Cenotaph (.42); May 1928 Duke of York, later George VI, accompanied by the Duchess at the General Assembly. 2nd caption - Empire News Bulletin. Lord High Commissioner to the General Assembly of the Church of Scotland. Shots of royal coach and procession coming out of gates of Holyroodhouse watched by crowds (1.07); Arrival at St. Giles Cathedral and then exit (1.23); At the Assembly Hall for the opening ceremony. Coach and mounted escort arrive at the Hall. General views of the exterior. Royal Couple return to coach and are driven off (1.54); August 1930 A daughter for the "Dainty Duchess". This was the newsreel caption for scenes at Glamis on the occasion of the birth of Princess Margaret. Repeat of similar caption. Close-up of Duchess of York. Pipes and drums in grounds of Glamis Castle. Confire (2.23); 1937 After the Coronation, George VI accompanied by Queen and the two young princesses visits Edinburgh. 2nd caption - British Movietone News. Edinburgh welcomes their Majesties (Mute) Shots of procession by coach along Princes Street (3.08); Arrival at Palace of Holyroodhouse, march past, and ceremonial presentation by Royal Company of Archers. View of proceedings from Arthur's Seat (4.08); The End