BRITISH MOVIETONE NEWS No. 227A, MOVIETONE PRESENTS THE LAUNCH OF THE 'QUEEN MARY'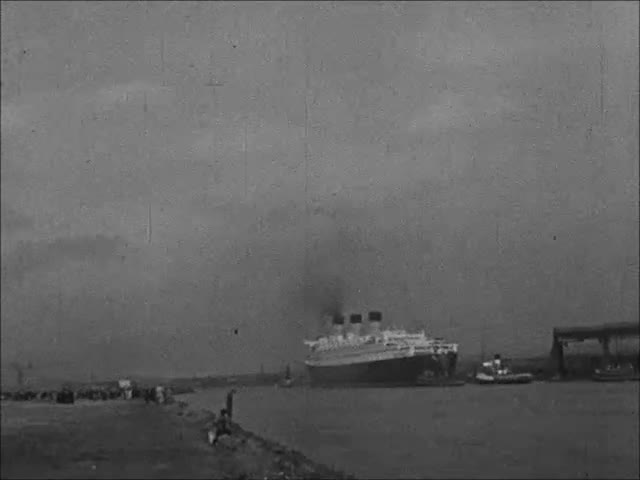 This video is not available to view remotely
Full length video - onsite only
Please read Understanding catalogue records for help interpreting this information and Using footage for more information about accessing this film.
Title: BRITISH MOVIETONE NEWS No. 227A, MOVIETONE PRESENTS THE LAUNCH OF THE 'QUEEN MARY'
Reference number: 0041
Date: 1934, September 26
Sound: silent
Original format: 16mm
Colour: bw
Fiction: non-fiction
Running time: 7.34 mins
Description: The launch of the liner "Queen Mary" at John Brown's shipyard, Clydebank, by King George V and Queen Mary.
Shotlist: 534 The launching of the "Queen Mary", 26th September 1934 (.41) long shot of John Brown's shipyard, Clydebank (.43) vessel on slipway (.54) close-ups of same and of propellors (1.17) Over 150,000 people witnessed this historic event. Shots of crowds and yard as parades marshall (1.36) Their Majesties arrive. George V and Queen Mary arrive by car (1.42) And it Rained! Shots of crowds hidden by umbrellas (1.49) c/u men as they knock away the stocks. Shot of stern of vessel as it enters the water. Chains take the strain. "Queen Mary" is towed to the fitting out basin and berthed (3.34) After a perfect launch she was berthed in the fitting out basin where she becomes QSTS "Queen Mary". c/u of riveters and welders at work. The completed vessel in dock (4.08) March 24th 1936. Canting her out of the basin. Tugs pull vessel out into the river and downstream (5.59) Passing Erskine. gvs vessel, brief shot of spectators, and wash lapping up onto bank (6.28) Langbank provided a fine view of her passage. Profile of vessel (6.45) Arriving at Tail o' the Bank. gvs of vessel (7.21) Many anxieties over and another magnificent tribute to the Clyde. Good luck go with her! The tugs are released. gvs "Queen Mary" (7.34)