CLYDESIDE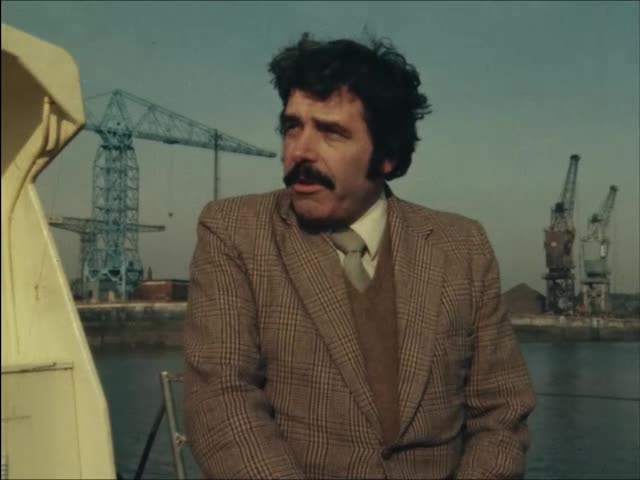 This video is not available to view remotely
Full length video - onsite only
Please read Understanding catalogue records for help interpreting this information and Using footage for more information about accessing this film.
Title: CLYDESIDE
Reference number: T2334
Date: 1982, February
Production company: Scottish Television
Sound: sound
Original format: 16mm
Colour: col
Fiction: Non-Fiction
Running time: 13.03 mins
Description: Sections of a documentary about attitudes to employment and unemployment, filmed against a backdrop of the shipyards on the Clyde. Includes interviews with Kay Carmichael, Jimmy Reid and retired shipyard worker David Fulton.

Shotlist: (0.00) blank (0.05) [music starts before picture] tracking shots from boat on Clyde in Glasgow, Kingston Bridge in distance, passing shipyard cranes (0.34) black - countdown leader (0.50) tracking shots past Scotstoun shipyards, dry docks at Govan, river bank with remains of wooden shoring, Stobcross crane, fitting out basin at Fairfield's with two tankers berthed - gvs of shipyard and cranes, river bank, more shots passing Fairfield's - shots passing Yarrow's shipyard and John Brown's in Clydebank, the mouth of the Kelvin, gvs of river around Scotstoun (3.37) black - countdown leader (3.47) talking head Kay Carmichael at Kingston Dock about employment issues, wages commensurate with jobs, providing the capacity for creativity around employment (6.32) establishing shot and interview on boat with David Fulton, ex-shipyard employee - talking head Fulton about working conditions in shipyards, intercut with shots passing Scotstoun yards, naval vessels berthed at quay, HMS Brazen at Yarrow's - talking head Fulton about problems of finding employment after First World War (8.42) establishing shot and interview with Jimmy Reid on boat on Clyde - talking head Reid about the right to work, his optimism about the role of technology in employment, the despair attached to unemployment, the responsibility of everyone in society to contribute by working, views of John Brown's yard and oil platform under construction in background (11.41) black - countdown leader (11.51) [closing sequence with music] gvs riverbanks, mouth of Kelvin, naval vessels berthed at Yarrow's, gvs of shipyards and river (12.58) blank (13.03)