THAT'S THE SPIRIT 'MOSQUE'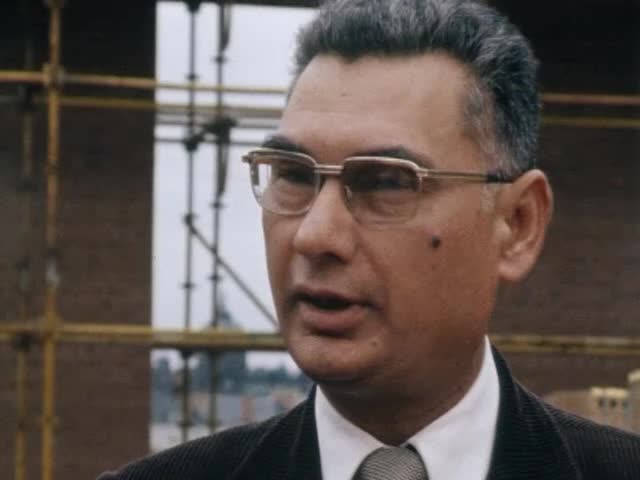 This video is not available to view remotely
Video 1

(currently displayed video)

Full length video - full length available onsite

New mosque under construction in Glasgow as described by councillor Bashir Maan. Interview with Muslim representative who explains Muslim beliefs and way of life. (clip)
Please read Understanding catalogue records for help interpreting this information and Using footage for more information about accessing this film.
Title: THAT'S THE SPIRIT 'MOSQUE'
Reference number: T2316
Date: 1980
Sound: sound
Original format: 16mm
Colour: col
Fiction: non-fiction
Running time: 8.05 mins
Description: General views of Central Mosque of Glasgow under construction. Interview with Bashir Maan.
Shotlist: Muslim man calling to prayer from the roof of the Central Mosque of Glasgow, which is under construction (0.12) view of church spires, pull back to construction materials (0.24) architects model, surrounding landmarks, the Citizens Theatre (0.39) closer view Muslim man (0.55) surrounding area, Glasgow Sheriff courts, Gorbals Church, pull back to construction site (1.02) presenter Sandy McDonald talking to camera about mosque intercut with gvs construction of building (1.37) River Clyde, pan around to mosque under construction (1.51) c/u minaret, tower blocks in b/ground (2.03) talking head Bashir Maan about Islamic architecture and worship intercut with shot of Muslims on construction site (3.25) talking head Maan about women in Islam, the moral code, intercut with gvs construction site (4.30) Maan talking about why alcohol is forbidden in Islam. Talk on sexual relations. Links with Christianity and Judaism. Talk on the Quran intercut with architects model and gvs construction, (7.40) talk on how mosque is being paid for (8.05)