WEIR'S WAY - MINGULAY AND BERNERAY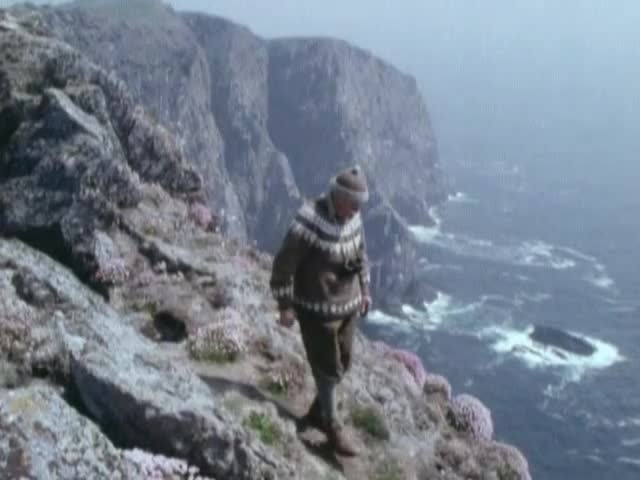 This video is not available to view remotely
Video 1

(currently displayed video)

Full length video - full length available onsite

Tom Weir tells the story of relief ship crewman MacPhee, who was stranded on the island of Mingulay after its inhabitants died of the plague. (clip)
Please read Understanding catalogue records for help interpreting this information and Using footage for more information about accessing this film.
Title: WEIR'S WAY - MINGULAY AND BERNERAY
Reference number: T2305
Date: 1977*
Sound: sound
Original format: 16mm
Colour: col
Fiction: non-fiction
Running time: 24.42 mins
Description: Tom Weir travels to Mingulay and Berneray. He explores and narrates a history of the islands.
Shotlist: Yacht "Eilidh" in bay, small dinghy in f/ground, Tom Weir climbs out and waves to person in dinghy. Walks on beach towards camera talking on Mingulay [Music: Mingulay Boat Song] (1.13) walking on grass (1.29) standing by rocks talking to camera, gvs landscape ruins of croft (2.10) view of yacht from island. Gvs landscape and beach (3.09) Weir walks towards village, golden eagle in sky (3.39) ruins of old village, Weir walks towards camera talking about McPhee of Barra, intercut with gvs ruins (5.03) cross gravestone as a result of plague (6.08) Weir walking towards 'new' village, gvs ruins (6.35) priest's house still standing and in good condition, gvs ruins, Weir talking (8.36) birds in sky. Weir climbing towards cliffs (9.22) camera pan back on Weir at top of sheer cliff (9.30) view from boat of cliff, cave (9.55) Weir on cliff, gvs island, Weir on cliff, pan down to bay (11.53) (427ft) blank, leader (12.12) Tom weir inside Berneray lighthouse looking at view (12.25) view from boat of island and Barra head (12.35) ext. lighthouse, pan up (12.49) int. 463ft lighthouse which shines out for 33 miles intercut with view cliffs (14.7) ext., Weir talking to lighthouse keeper Donald about last summer for manning of lighthouse before it becomes automatic. He speaks of the effect of the damp on his chronic arthritis (16.05) gvs island and cliffs, various points of view (17.45) seabirds on cliffs, including puffins (19.15) Tom Weir talking to camera (19.35) Joe Toner on cliff, talking about life on island working in lighthouse (21.07) helicopter comes to land to take Joe to mainland (22.25) helicopter departs (22.42) Weir climbing on rocks, talks to camera before standing on cliff edge (24.05) Weir on yacht talking to camera before raising sail (24.42)