PETER McCANN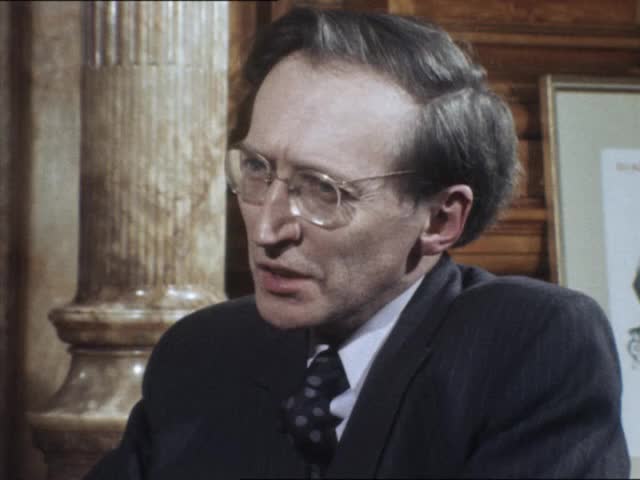 This video is not available to view remotely
Video 1

(currently displayed video)

Full length video - full length available onsite

Lord Provost of Glasgow Peter McCann describes how his disability has affected his life and career. (clip)
Please read Understanding catalogue records for help interpreting this information and Using footage for more information about accessing this film.
Title: PETER McCANN
Reference number: T2295
Date: 1973c
Production company: Scottish Television
Sound: sound
Original format: 16mm
Colour: col
Fiction: non-fiction
Running time: 24.22 mins
Description: Overview of Peter McCann, the 122nd Lord Provost of Glasgow. General views of Glasgow and the problems it faced in early 1970's. Lengthy dialogue with Peter McCann about his beliefs and opinions, including a discussion of his disability.

Peter McCann was crippled as a result of diptheria when aged 7.
Shotlist: STV logo, (0.09) ext. brief shot Glasgow slum, int. room Lord Provost Peter McCann playing piano (0.45) c/u certificate on wall '1973 - Peter Toland McCann, Disabled Scot of the Year' (1.01) int. office, talking head Peter McCann (1.18) McCann in George Square talking to gardeners and members of the public (2.08) City Chambers and war memorial in background (2.25) int., talking head McCann intercut with footage of Lord Provost mace and chain (3.00) ext. City Chambers, gvs public in street (3.40) Park Circus, ext. Pollok House, Glasgow University tower, gvs Glasgow streets with traffic (4.00) gvs Kelvingrove Park (4.13) tracking shot along motorway through Glasgow at Charing Cross (4.32) pan skyline, c/u construction works. Examples of various tower blocks in Glasgow (5.53) int. McCann house, McCann and seven year old son playing with toy soldiers (6.37) int. office, talking head McCann intercut with brief shots interviewer and later on with his wife and son at home (10.55) McCann leaves house in car and tracking shot of streets, past Queens Park (12.38) Ext. Kelvingrove museum, City Chambers (12.47 ) blank (13.02) int. office, talking head McCann (13.26) gvs motorway (13.52) ext. talking head McCann in front of Bell's Bridge intercut with footage of slum tenements (16.40) housing construction footage and footage of Castlemilk post-war scheme (17.43) ext., talking head McCann (19.36) tower block and slum tenements. Aerial pan city (20.25) ext., talking head McCann (23.22) ext. City Chambers (23.40) McCann enters City Chambers. shot of ext City Chambers, ext Kelvin Hall, Glasgow street, motorway and tower block (24.22)