PRINCESS MARGARET AT ROYAL SHOW IN METROPOLE THEATRE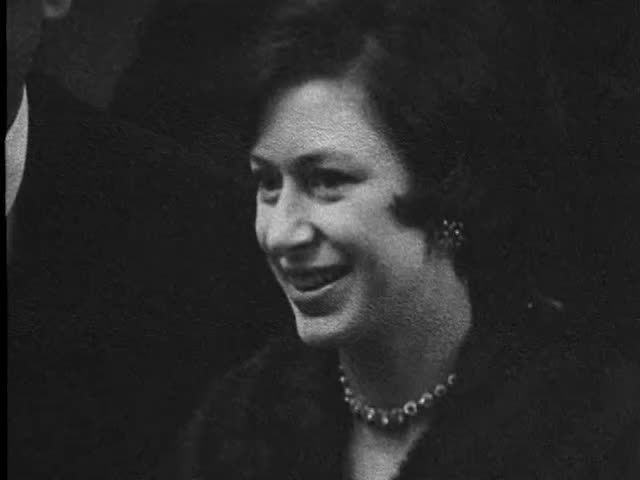 This video is not available to view remotely
Full length video - onsite only
Please read Understanding catalogue records for help interpreting this information and Using footage for more information about accessing this film.
Title: PRINCESS MARGARET AT ROYAL SHOW IN METROPOLE THEATRE
Reference number: T1595
Date: 1966
Production company: STV
Sound: sound
Original format: 16mm
Colour: bw
Fiction: non-fiction
Running time: 10.24 minsc.
Description: Scenes of Princess Margaret's arrival and meet -and-greet from the foyer of the Metropole Theatre, the venue for a Royal performance, hosted by Jimmy Logan.
Shotlist: Scottish Television logo (0.09) The guests arrive and are herded into the auditorium (0.27) Jimmy Logan, amongst others, awaits Princess Margaret (0.32) C/u of Jimmy Logan (0.35) Other VIPs (0.46) Leader (0.57) Princess Margaret arrives and is greeted (1.05)C/U OF PRINCESS (1.08) JIMMY Logan escorts her to meet the line up of VIPs (1.43) Leader (1.51) Johnnie Beattie chats to the Princess (2.04) People enter the foyer (3.25) The doorman at the door directs the masses (4.02) Gvs of the guests (5.05) Trims of previous material (5.39) The VIPs are announces before meeting the Princess (7.46) A little girl is herded in to present a bouquet to the Princess who then chats to her (9.07) The furs are removed for a photocall (9.56) Princess Margaret and the others head up to the Royal box (10.24) All trims and wildtrack.
[Shotlisted at 24 fps]