COATS OF PAISLEY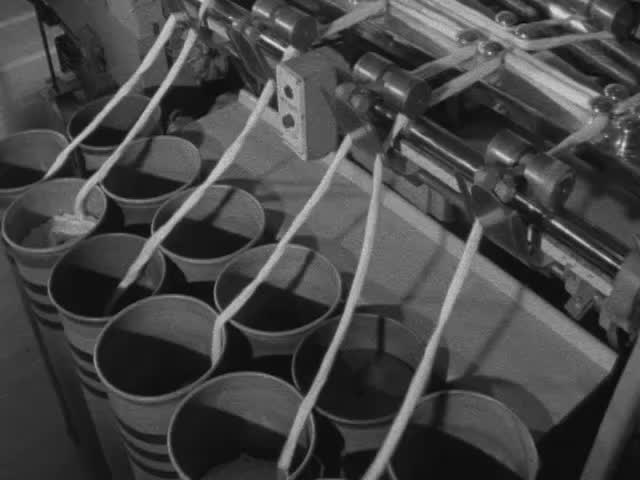 This video is not available to view remotely
Full length video - onsite only
Please read Understanding catalogue records for help interpreting this information and Using footage for more information about accessing this film.
Title: COATS OF PAISLEY
Reference number: T1501
Date: [1961]
Production company: Scottish Television
Sound: sound
Original format: 16mm
Colour: bw
Fiction: non-fiction
Running time: 18.48 mins
Description: Trims of a programme from the early 1960s showing the Coats thread mill in Paisley, mostly shots of the cotton being processed through the various machines.

For other films concerned with J & P Coats Ltd, Cotton Thread Manufacturer, see also refs. 0510 and 4140
Shotlist: Reel 1
No credits. Forklift approaching the back of a lorry containing cotton bales (0.46) raw cotton being processed into machine (1.47) ms large roll of cotton being weighed; c/u needle moving around face of gauge (2.24) c/u of cotton grinding machine in operation (3.20) shots of man examining roll of cotton (3.28) man operating the cotton grinder (4.19) ms man moving cotton roll (5.04) shots of cotton being prepared for threading; gvs threading machine (7.25) "Coates & Fleming Reid Reel 2" written on leader (7.32) c/u shots of threading machine, moving onto more general shots of the machines (8.07) shots of machines putting the cotton on to spindles with women workers inspecting the long rows of machines including c/u's of the spindle machines, ending with a brief shot of a woman at one of the machines with cotton dust flying around in the background - she's not wearing any protective mask [Commag Wildtrack throughout] (10.48).

Reel 2
ints. raw cotton being fed into machine marked "Egyptian Cotton - Menoufi C" (1.50) shot of workers leaving work with factory in background (3.04) [Commag Wildtrack from this sequence onwards] Woman working on spindle machine (4.07) c/u's of machine producing long wooden cylindrical objects (5.10).

Reel 3
General shots of the machine producing long wooden cylindrical objects cutting them into smaller parts and eventually piercing a hole through the middle of the them - perhaps spindle holders? [Commag Wildtrack throughout] (2.50).