GENERAL ELECTION 1974: Govan Candidates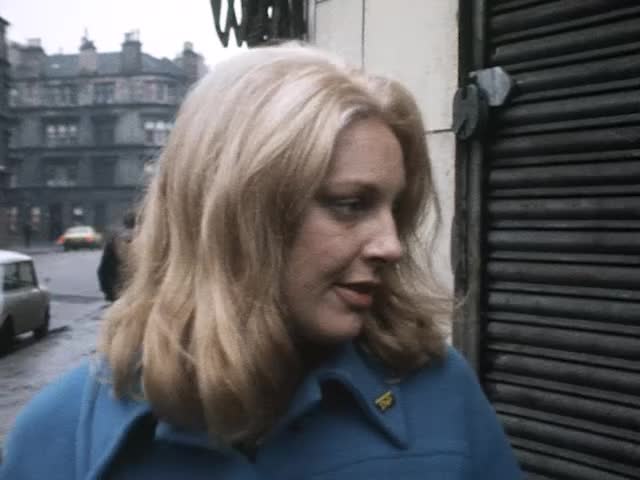 This video is not available to view remotely
Full length video - onsite only
Please read Understanding catalogue records for help interpreting this information and Using footage for more information about accessing this film.
Title: GENERAL ELECTION 1974: Govan Candidates
Reference number: T0949
Date: [1974]
Production company: STV
Sound: sound
Original format: 16mm
Colour: col
Fiction: non-fiction
Running time: 9.05 mins
Description: The February General Election of 1974: candidates are out on the streets of Govan trying to win votes. Shots of Margo MacDonald (the SNP Member of Parliament) and others canvassing.
Shotlist: tracking shot from car Govan street (0.12) Back court view of slum tenement with broken windows; Govan street scenes; shots of Govan Cross and corporation buses [dull, rainy day] (1.01) Conservative candidate John Mair crosses street from his campaign headquarters ["Vote right"]; Mr Mair handing out leaflets to pensioners (1.26) ls Margo MacDonald walking along street; c/u Ms MacDonald encouraging people to vote (1.48) Liberals cross street from their campaign headquarters; ms Peter MacMillan canvassing (2.11) ls Labour candidate, Harry Selby; ms Selby speaking to older woman (2.36) Street scenes (3.11) blank (3.30) [Trims of previous material] Harry Selby speaking to different voters, handing out material emphasising effects of inflation (3.49) gvs Conservative candidate leafleting (5.44) blank (6.04) ls Margo MacDonald crossing street; ms MacDonald speaks to constituent interested in visiting her as MP for Govan (6.31) brief shot older man being asked for consent; ms MacDonald canvassing voters [some previous shots] (7.37) ms Liberal candidate canvassing people at Govan Cross (9.05)